Espresso-Chocolate Chip Banana Bread with Espresso-Cinnamon Butter
Espresso and chocolate chips make Banana Bread absolutely mouth-watering. ?? ?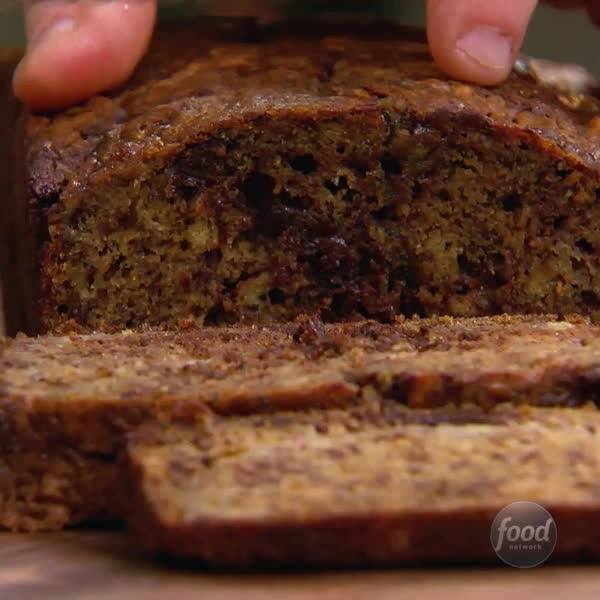 Ingredients
Banana Bread:
5 tablespoons unsalted butter, plus extra at room temperature for greasing the pan
1 tablespoon instant espresso powder
1½ cups all-purpose flour, spooned and leveled
1 teaspoon baking soda
¼ teaspoon kosher salt
4 medium-ripe bananas (the peel should be pretty black), peeled and halved
½ cup granulated sugar
2 tablespoons lightly-packed light brown sugar
1 large egg, beaten
3 ounces semisweet chocolate, finely chopped
Espresso-Cinnamon Butter:
1½ sticks (12 tablespoons) unsalted butter, at room temperature
2 tablespoons confectioners' sugar
1 teaspoon instant espresso powder
Pinch of ground cinnamon
Pinch of fine salt
Instructions
Make the banana bread: Adjust an oven rack to the lowest position and preheat the oven to 350 degrees F. Grease a 9-inch loaf pan with the softened butter. Place the 5 tablespoons butter in a small saucepan set over medium heat and cook until the butter turns a deep golden brown color, about 2 minutes; stir in the espresso powder. Remove and let cool slightly.
Whisk the flour, baking soda and kosher salt together in a medium bowl.
Using a potato masher, mash the bananas in a medium bowl until pretty smooth. Add the sugars, cooled brown butter and egg and whisk until combined. Add the flour mixture and whisk until just combined, don't over-mix. Fold in the chopped chocolate.
Scrape the batter into the prepared loaf pan and bake on the lowest oven rack until a toothpick inserted into the center of the banana bread comes out with just a few moist crumbs attached, 40 to 50 minutes. Let the banana bread cool on a baking rack in the pan for 15 minutes. Use a knife to separate the edges of the banana bread from the pan, then invert it and cool the loaf directly on the rack for at least 30 minutes before slicing.
Make the espresso-cinnamon butter: Stir the butter, sugar, espresso, cinnamon and salt together in a small bowl until smooth. Serve with the banana bread.
Watch the recipe video here: