Disappearing Marshmallow Puffs
Kids love making these tasty treats for Sunday breakfast. While baking, the marshmallows melt and blend with the cinnamon-sugar.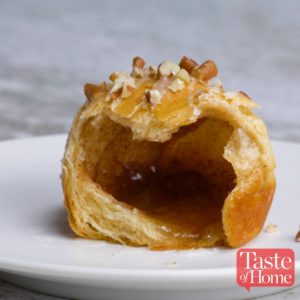 Ingredients
2 tubes (8 ounces each) refrigerated crescent rolls
¼ cup sugar
1 teaspoon ground cinnamon
16 large marshmallows
¼ cup butter, melted
GLAZE:
½ cup confectioners' sugar
½ teaspoon vanilla extract
2 to 3 teaspoons milk
¼ cup chopped nuts
Instructions
Separate crescent dough into 16 triangles; set aside. In a shallow bowl, combine sugar and cinnamon. Roll marshmallows in butter, then in cinnamon-sugar.
Place marshmallows at wide end of crescents. Fold corners over marshmallow. Roll up each triangle, beginning at the wide end. Pinch seams to seal. Dip bottom of dough in butter.
Place butter, side down, in ungreased muffin cups. Place muffin pans on baking sheets. Bake at 375° for 10-15 minutes or until golden brown. Immediately remove from pans to wire racks.
For glaze, combine confectioners' sugar and vanilla. Stir in enough milk to achieve desired consistency. Drizzle over puffs. Sprinkle with nuts. Serve warm.
Watch the recipe video here: