Berry Vodka Sunrise
Berry Vodka Sunrise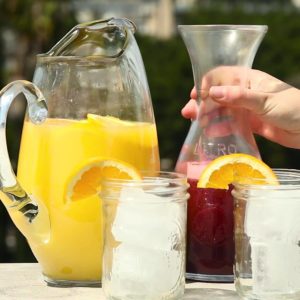 Ingredients
3 cups vodka (710 mL)
3 cups orange juice (710 mL)
3 cups sparkling water (710 mL)
1 ½ cups mixed berries (150 g)
1 ½ cups tart cherry juice (360 mL)
1 ½ cups maraschino cherry liquid, ¼ cup (60 ml) of grenadine will work as a substitute (360 mL)
fresh orange slice, to garnish
maraschino cherry, to garnish
Instructions
Combine vodka, orange juice, and sparkling water in a pitcher.
Stir in the fresh oranges.
Set aside and chill.
Puree mixed berries, tart cherry juice, and maraschino cherry liquid in a blender or food processor.
Strain the purée through a sieve into a separate pitcher.
When ready to serve, pour orange vodka mixture into a glass of ice, leaving some room.
Top off the drink with the berry liquid and watch it settle to the bottom.
Garnish with an orange and maraschino cherry.
Enjoy!
Watch the recipe video here:
Get garden party ready with this berry vodka sunrise cocktail ?☀️FULL RECIPE: https://tasty.co/recipe/berry-vodka-sunrise

Posted by Proper Tasty on Friday, April 12, 2019