Crockpot Baked Apples
Apple pie can make you feel like everything is right in the world. Maybe it makes you feel more American. Either way, apple pie is a dessert one must attempt to bake at some point in life. Even if you're not much for baking you should try. If you're really not up for baking an entire pie then you should start with this recipe. Consider this the first easy step toward that process.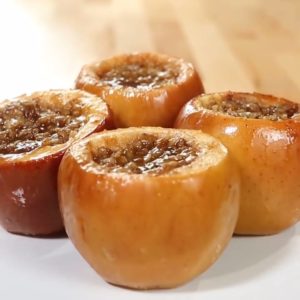 Ingredients
4–7 Gala Apples
½ Cup Quaker Old Fashioned Oats
½ Cup Brown Sugar
3 tsp. Cinnamon
1 tsp. Allspice
½ Stick Unsalted Butter
Instructions
Wash apples.
Cut off tops & then core with a sharp knife.
Mix together oats, brown sugar, cinnamon, and allspice.
Fill each apple with oats mixture.
Top each apple with a thick slice of butter.
Pour ¼ cup water in bottom of Crockpot.
Carefully place apples in Crockpot and cover with lid.
Turn on crockpot and set on HIGH for 3 – 4 hours.
Serve with ice cream or whipped cream or powdered sugar.
Notes
Apples are done when you squeeze them and they're soft.
Watch the recipe video here: