CHRISTMAS TREE FAJITA TRIANGLES
CHRISTMAS TREE FAJITA TRIANGLES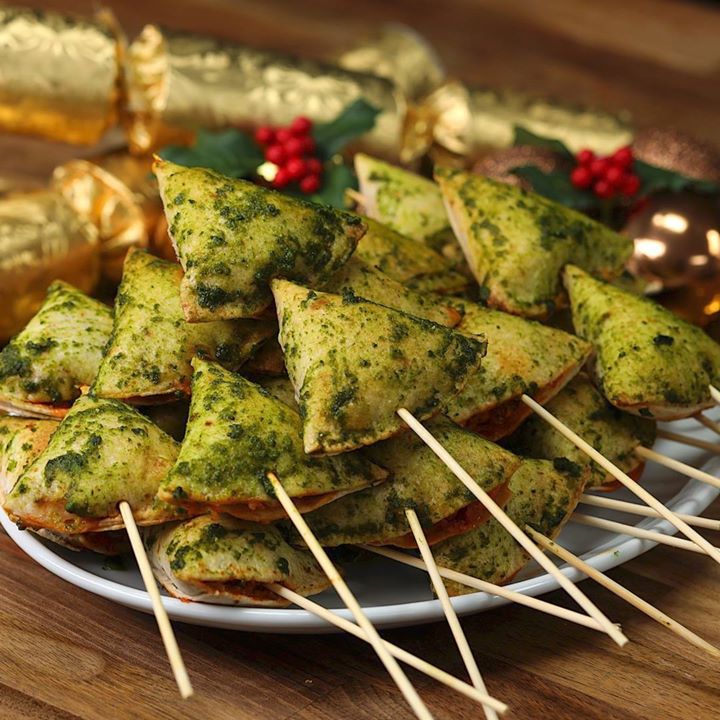 Ingredients
1 tsp oil
1 white onion finely sliced
2 cups of mixed peppers finely sliced
2 garlic cloves minced
⅓ cup fajita spice mix
½ cup passata
22 6 inch tortillas
¼ cup flour
¼ cup water
vegetable oil for brushing
1 cup pesto
Instructions
In a large saute pan, heat oil over medium heat. Add onions, peppers, and garlic. Cook until softened. Add shredded chicken, fajita seasoning, and passata. Cook to heat through. Remove and chop into small pieces.
Pre-heat oven to 180ºC (350ºF). Cut tortillas in half. In a small bowl mix together flour and water to form a paste. Spread a thin layer of paste on ⅓ of one half of tortilla. Fold over into a cone shape. Repeat with remaining tortillas.
FIll each cone with fajita mix and use more of the flour paste to seal the triangle. Arrange on a lined baking sheet and brush with oil. bake for 25 minutes until just golden brown.
Place two onto one skewer and brush generously with pesto.
Enjoy!
Watch the recipe video here: