Chocolate Battenberg
Stunning both inside and out, this Battenberg cake combines chocolate and coffee with layers of apricot jam all covered in chocolate ganache.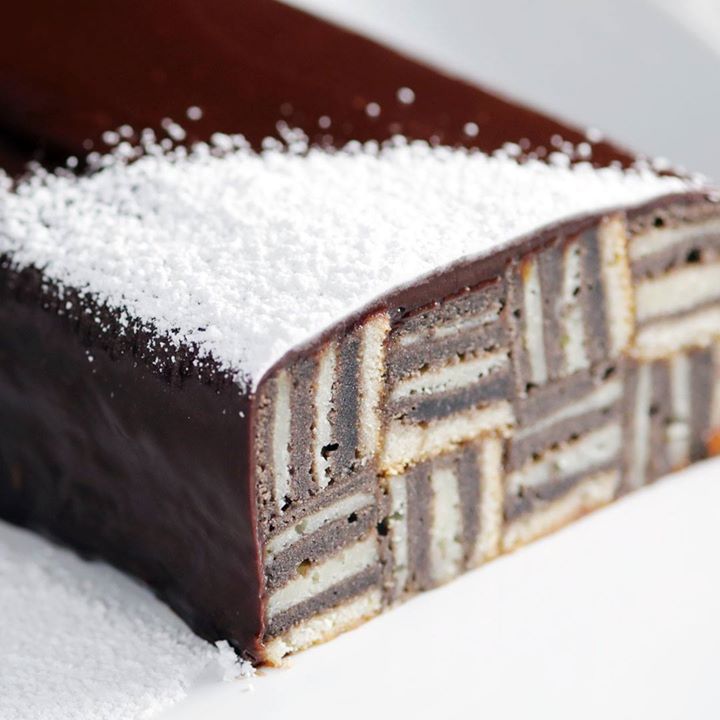 Ingredients
1½ cups butter
1½ cups sugar
½ tablespoon vanilla extract
3 large eggs
2 cups flour
½ tablespoon baking powder
¼ teaspoon kosher salt
¾ cup whole milk
¼ cup freshly brewed coffee
⅛ cup cocoa powder
½ teaspoon coffee extract
1½ cups apricot jam
8 ounces chocolate, chopped
1 cup heavy cream
1 pinch salt
Powdered sugar
Instructions
Preheat oven to 450 degrees. Grease and line a 9 x 9 square cake pan and set aside.
In the bowl of a stand mixer, beat the butter and sugar until pale and aerated. Add vanilla extract and eggs, one at a time. Mix until just combined.
Add half of the flour, baking powder and kosher salt to the mixture. Pour in the milk and mix until just incorporated then add the the remaining flour, baking powder and salt.
Divide the mixture in half and place into two large bowls. Set aside.
Mix the cocoa powder into the hot coffee and mix into one of the bowls. Add the coffee extract and stir until well combined.
Spread a thin layer of the yellow cake batter on the bottom of the pan. Bake for 3 to 5 minutes until set. Top with a layer of cocoa coffee cake batter and bake for 3 to 5 minutes until set. Continue alternating layers and baking, ending with a final layer of cocoa. Remove from oven and allow to cool completely before cutting.
Using a ruler, cut the cake into 8 equal parts lengthwise. Using the apricot jam, attach the pieces to one another in two rows of alternating patterns. Wrap the cake in plastic wrap and chill for at least two hours or up to overnight.
For the ganache: In a heavy-bottomed saucepan, bring cream just to boiling. Place the chopped chocolate and salt in a heatproof bowl and pour the cream over. Allow to sit without mixing for about 5 minutes. Whisk until shiny and smooth then pour over chilled cake. Allow to set at room temperature.
Cut a strip of parchment and cross the surface of the cake on a diagonal. Sprinkle with powdered sugar to create a graphic line across the cake, then serve immediately.
Watch the recipe video here:
Hey girl, you're like a chocolate battenberg cake – beautiful both inside and out.Full Recipe: bit.ly/2GkUhP3

Posted by Tastemade on Saturday, March 10, 2018