King Cake Rolls
Get into the Mardi Gras spirit with a vibrant king cake roll filled with purple frosting and, yes, a plastic baby.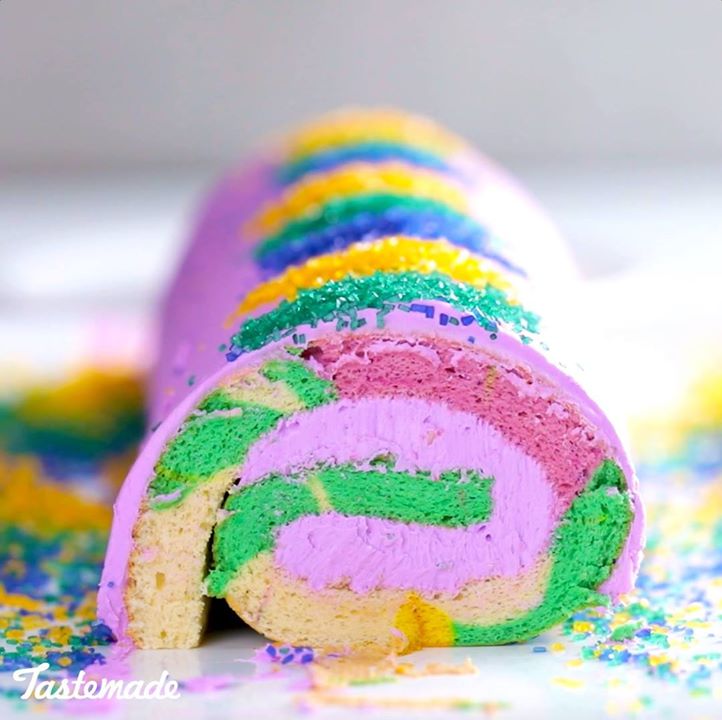 Ingredients
For the sponge cake:
8 eggs, divided, at room temperature
11 tablespoons caster sugar, divided
6 tablespoons milk, room temperature
6 tablespoons vegetable oil
1 teaspoon vanilla extract
½ cup all-purpose flour, sifted
1 teaspoon cinnamon
6 tablespoons cornstarch
1 teaspoon cream of tartar
Zest of one lemon
Green, yellow and purple food coloring
For the icing:
2 cups butter
8 cups powdered sugar, sifted
¼ cup milk
1 teaspoon vanilla extract
½ teaspoon almond extract
Green, yellow and purple sprinkles
Instructions
For the cake:
Preheat oven to 350 degrees. Butter a roll cake sheet pan and line with parchment paper.
Whisk together yolks and 3 tablespoons sugar until the sugar is dissolved. Whisk in milk, vegetable oil and vanilla until smooth. Sift in flour, cinnamon and cornstarch and whisk until smooth.
In the bowl of a stand mixer, whip egg whites until frothy, then add cream of tartar. Whip at medium-low speed for 2 minutes, then gradually add remaining sugar. Whip on medium-high until stiff peaks form. Fold the egg white mixture into the egg yolk mixture.
Divide the batter into four portions and tint one purple, one yellow, and one green. Leave one portion natural colored. Pour the batters into the pan and swirl it together with a toothpick. Tap the pan on the counter to avoid air bubbles. Insert a king cake baby to be found by the lucky cake eater if desired, and bake for 20 to 25 minutes until fluffy. Cake will spring back when touched. Remove parchment paper, and cool cake on a drying rack covered with a towel.
For the icing:
With a hand mixer, beat butter until light and fluffy. Gradually add in powdered sugar one cup at a time, scraping down the bowl as necessary. Finally, add the milk slowly until desired consistency is reached. Add in extracts and purple food coloring.
Ice the inside of the cake with about half of the frosting, and then roll it. Ice the outside of the cake and sides with the remaining frosting. Take a piece of parchment paper and pull the edges taught. Slide the parchment paper down the length of the roll cake to smooth the frosting. Sprinkle with green, yellow and purple sprinkles. Serve immediately.
Watch the recipe video here:
This cake's secret ingredient? BABY.(During Mardis Gras, finding the baby in your cake symbolizes luck and prosperity!)Full Recipe: taste.md/2GyXYBx

Posted by Tastemade on Friday, February 2, 2018