Jellied bouillon with frankfurters
We're back at it again! Bringing the retro recipes back to the 21st century with jellied bouillon with frankfurters. If you're looking for something out of the ordinary to serve to your guests at your next get together, this is one recipe you need to try!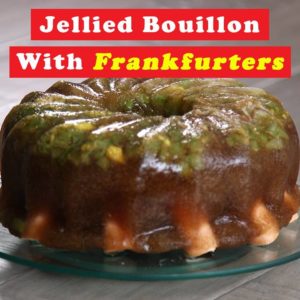 Ingredients
2 tablespoons unflavored gelatin
½ cup cold water
3 cups hot beef stock
10 hot dogs
3 hard boiled eggs, halved
½ cup celery, diced
Instructions
In a small bowl, combine cold water and gelatin. Pour the mixture into hot beef stock. Whisk well, until well combined.
Arrange hot dogs, eggs, and celery in a loaf pan. Slowly pour the gelatin mixture to fill the pan. Place in the fridge to chill for about 4 hours, or until completely set.
Once firm, quickly invert the loaf pan onto a serving platter. Garnish with sliced cucumber.
Watch the recipe video here: