Carrot Cake Roll
Carrot cake, but in a roll. Moist AF from all those carrots, creamy from all the delicious cream cheese, but with an adorable spiral running though it. It's not always about the big twists.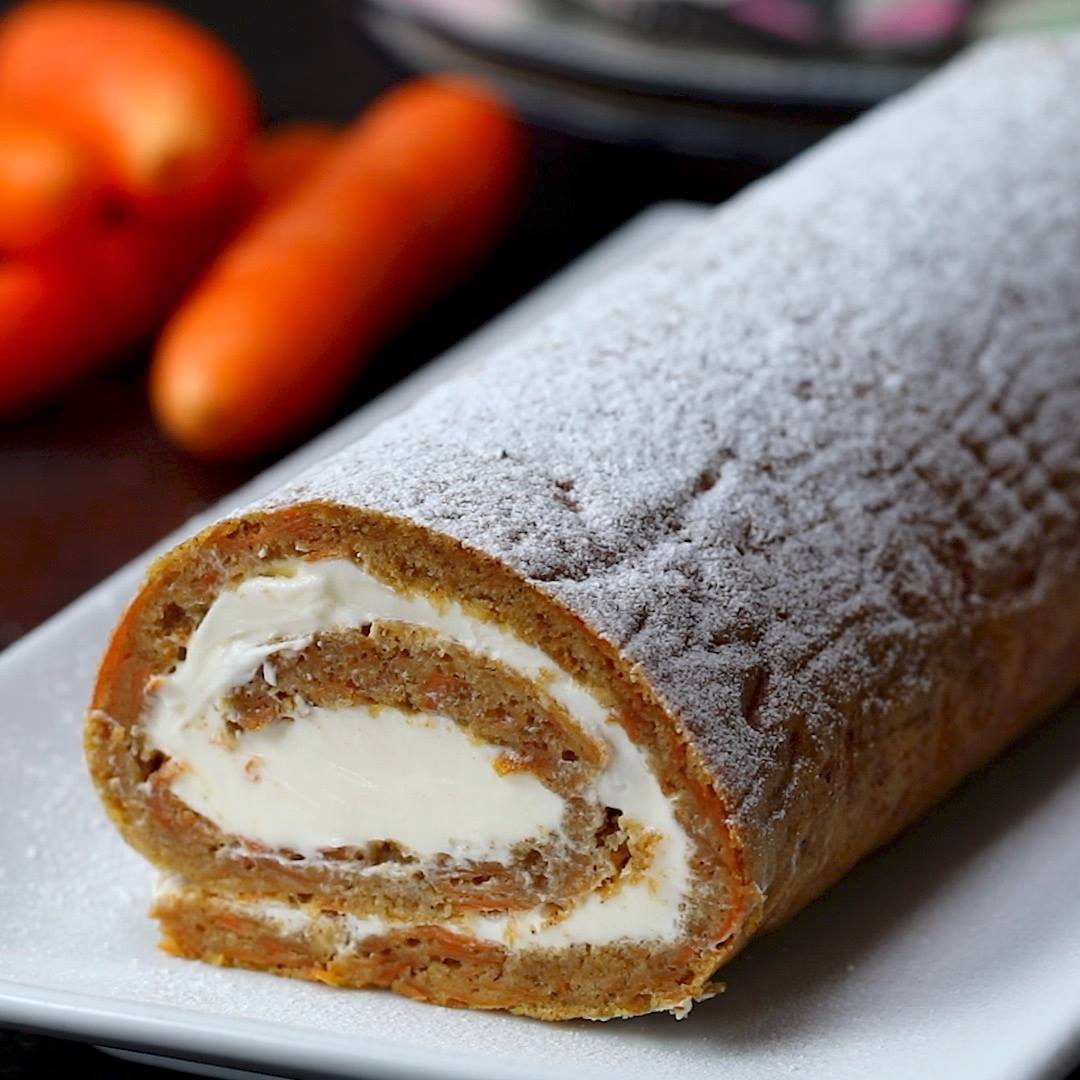 Ingredients
4 eggs
150g brown sugar
100g plain flour
1 tbsp mixed spice
1 tbsp baking powder
200g carrots, grated
30ml vegetable oil
230g cream cheese
6 tbsp butter
250g icing sugar, plus extra for dusting
Instructions
Preheat the oven to 180°C/360°F
Whisk the eggs until they are frothy and have lightened in colour. Add sugar and continue to whisk until the mixture because shiny and smooth.
Sift in the flour and mixed spice, then stir in the grated carrots and fold it all together.
Spread into a lined and well oiled 10 x 15 inch Swiss roll tray.
Bake for 18 minutes, until the top springs back when pressed but hasn't coloured - you don't want a crust like you'd get with a normal cake.
Take from the oven and, while it's still hot, roll up the cake to make a tight roll. Allow to cool on a wire rack.
When completely cool make the cream cheese filling - whip the cheese and butter together then add the icing sugar to make a fairly stiff mix. Add more icing sugar if it looks like the mix is too wet, otherwise it'll splodge out of the sides.
Spread the filling to within ½ inch of the long sides of the cake, leaving the furthest short edge 1 inch clear (otherwise the filling will get squished out).
Roll the whole thing up and dust with icing sugar.
Watch the recipe video here:
Carrot Cake Roll

Posted by Twisted on Tuesday, May 29, 2018