Chicken and Kale in Creamy Mushroom Sauce
Made with crispy bacon, braised chicken, and hearty mushrooms, this pasta dish is sure to please everyone at the table.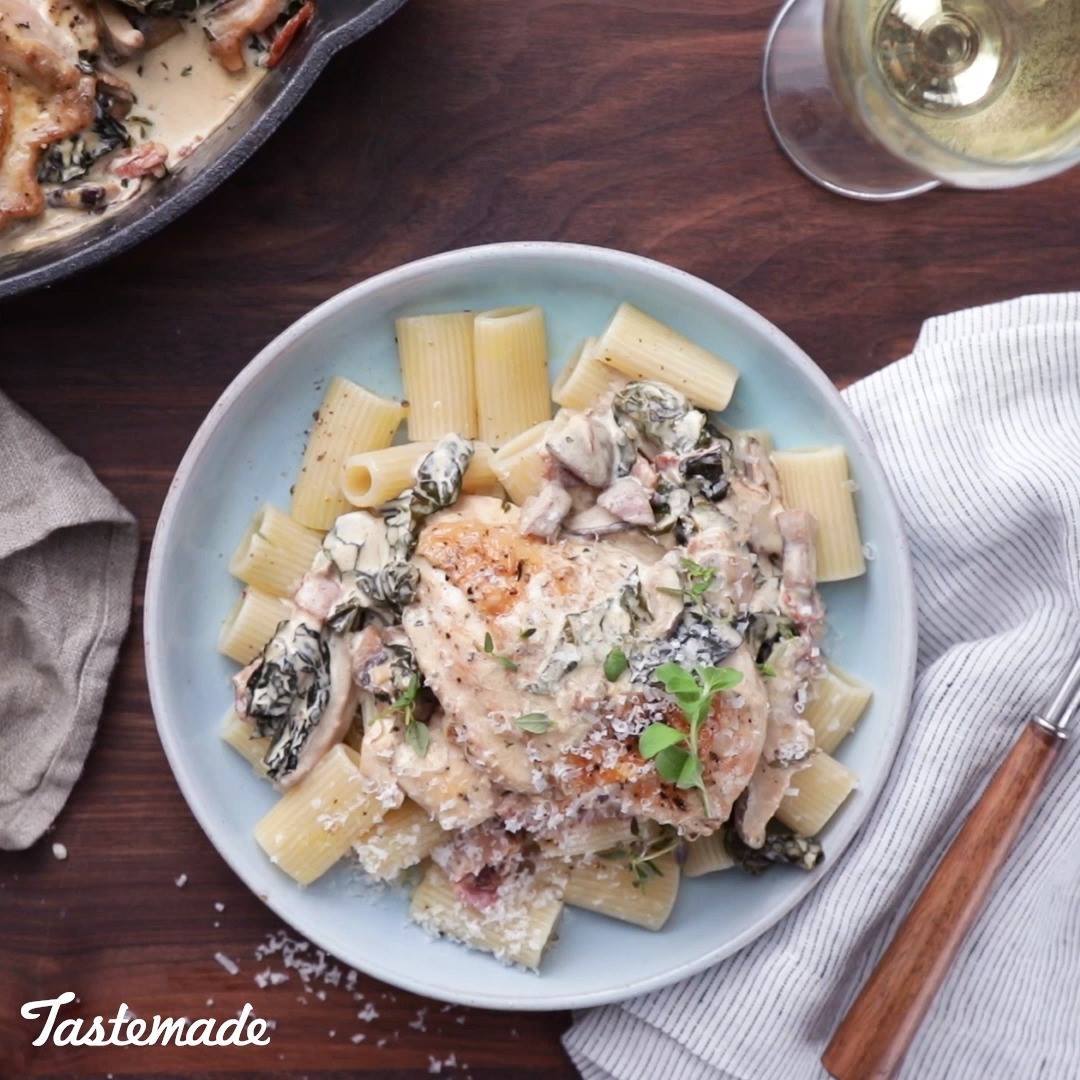 Ingredients
6 ounces center-cut or cottage bacon, roughly chopped
4 boneless, skin-on chicken thighs, trimmed of excess fat
2 boneless, skin-on chicken breasts, trimmed of excess fat
Kosher salt and freshly ground black pepper
1 tablespoon extra-virgin olive oil, plus additional as needed
1 large shallot, roughly chopped
4 cloves garlic, roughly chopped
3½ ounces shiitake mushrooms, stems removed and sliced
2½ ounces cremini mushrooms, roughly chopped
2 teaspoons thyme leaves, roughly chopped, plus 3 sprigs for garnish
2 teaspoons marjoram leaves, roughly chopped, plus 3 sprigs for garnish
1 teaspoon rosemary leaves, finely chopped
½ cup dry marsala
1 lemon, zested & juiced
1½ cups vegetable broth
4 ounces Tuscan kale, stems removed and roughly chopped
6 ounces mascarpone cheese
Parmesan cheese, for garnish
Instructions
In a large, cold, stainless steel skillet over medium heat, add the bacon and render until crispy, 8 to 10 minutes. Remove with a slotted spoon to a paper towel-lined baking sheet.
Season the chicken on both sides with salt and pepper.
If the bacon didn't render enough fat, add olive oil to pan as needed. Increase the heat to medium-high. Add the chicken, skin-side down, and cook for 5 minutes until the skin is golden brown and crispy. Turn over to cook on the other side, another 3 to 5 minutes. Remove the chicken to the baking sheet with the bacon.
Add the shallot into the same pan. Cook for 2 minutes, then add the garlic, mushrooms and herbs. Season with salt and pepper. Cook for 8 to 10 minutes until the vegetables are softened and browned.
Deglaze with marsala, scraping the bottom of the pan with a wooden spoon. Bring to a boil. Add the lemon zest and juice and the vegetable broth. Add the kale, stirring to wilt. Add the bacon back into the pan, then nestle the chicken into the sauce. Reduce the heat to a simmer. Cover the pan with a lid and simmer for 10 minutes until the chicken is fully cooked.
Remove the lid and simmer for another 5 to 8 minutes to reduce the sauce. Add the mascarpone cheese, stirring to incorporate. Season to taste with salt and pepper.
Garnish with sprigs of thyme and marjoram.
Watch the recipe video here:
This is one seriously delicious chicken dinner. Taste for Yourself: taste.md/2AxPzy9

Posted by Tastemade on Thursday, May 24, 2018