Cheesy Hunters Chicken Nachos
BBQ chicken nacho's are such a winning combination. The tang and slight kick from BBQ sauce pairs so well. Make your own flavoured tortilla chips for extra flavour and kick!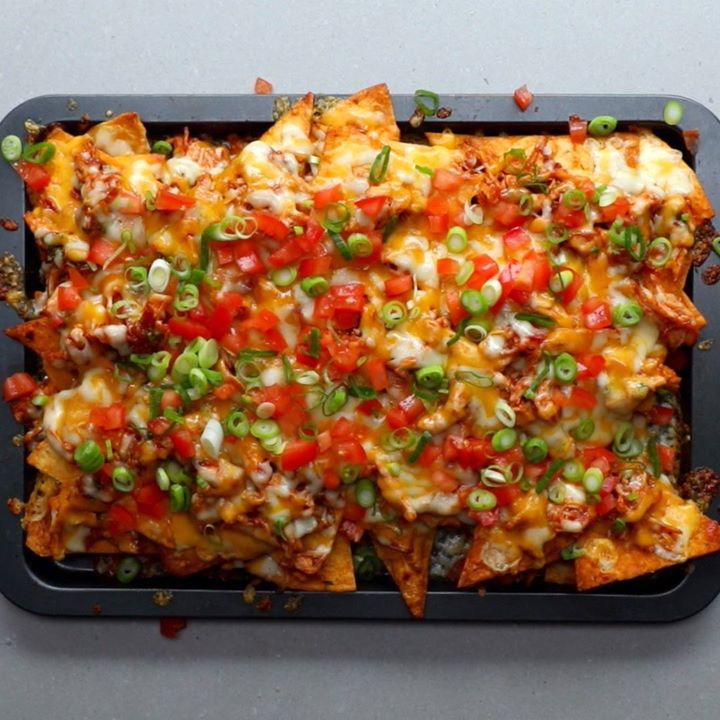 Ingredients
1 tbsp bbq seasoning
½ cup melted butter
1 pack tortillas
2 cups shredded cooked chicken
¼ cup cooked crispy bacon bits
1 cup bbq sauce
⅓ cup chopped spring onions
2 cups mixed grated cheese
Chopped spring onions
Chopped tomatoes
Instructions
Pre-heat oven to 180ºC. Line a large sheet tray with parchment paper.
Cut tortillas into 8ths.
Add bbq seasoning to melted butter and whisk to incorporate. Toss tortilla triangles in seasoning and arrange on lined tray in an even layer. Bake for 8 minutes until golden brown and crispy. Then arrange half on a sheet tray.
Meanwhile, mix together chicken, bacon, bbq sauce and spring onions. Divide on top of the tortillas, sprinkle with half of the cheese mix. Top with remaining tortillas and repeat with chicken mix and cheese.
Bake for 6-8 minutes until cheese is melted through.
Top with chopped tomatoes and spring onions.
Enjoy!
Watch the recipe video here:
Cheesy Hunters Chicken Nachos

Posted by Twisted on Wednesday, March 28, 2018