Cheddar-Crusted & Bacon Broccoli Quiche
Saving this Cheddar-Crusted Bacon Broccoli Quiche for a perfect weekend brunch ?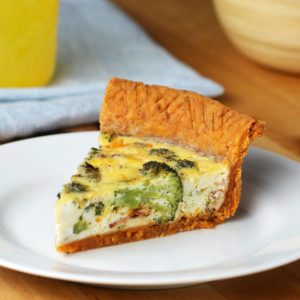 Ingredients
2 ½ cups shredded cheddar cheese, divided (250 g)
1 cup unsalted butter, 2 sticks, room temperature (230 g)
2 cups all-purpose flour, plus more for dusting (250 g)
1 tablespoon paprika
1 tablespoon garlic powder
2 ½ teaspoons salt, divided
5 tablespoons ice water
4 strips bacon
2 cups small broccoli floret (300 g)
6 large eggs
1 cup milk (240 mL)
½ teaspoon pepper
SPECIAL EQUIPMENT
pie weights, coffee beans, or dried beans
Instructions
Preheat the oven to 350˚F (180˚C).
Add 2 cups (200 g) of cheddar cheese and the butter to a large bowl. Mix to combine with an electric hand mixer or stand mixer.
Add the flour, paprika, garlic powder, and 2 teaspoons salt and mix well. Add 3 tablespoons of ice water and mix. Add the remaining ice water 1 tablespoon at a time. The dough should hold together when pinched, but crumble apart if you break it up in your hand. If it seems too dry, add a bit more ice water.
Transfer the dough to a clean surface and knead with your hands until it comes together. Shape the dough into a disc, then wrap in plastic wrap and chill in the refrigerator for 30 minutes.
Lightly flour a clean surface and roll out the dough into a circle about ⅛ inch (8 mm) thick. Carefully transfer the crust to a 9½-inch (24-cm) glass pie dish.
Trim the edges (save the trimmings to make crackers!). Poke holes in the bottom of the crust with a fork, then use the tines to crimp the edges. Line the dough with parchment paper and fill with pie weights.
Bake for 30 minutes, until the edges are crisp.
While the crust is baking, prepare the fillings. In a large skillet over medium-high heat, cook the bacon until crisp, 5-7 minutes. Using tongs, remove the bacon from the skillet and let drain on paper towels until cool enough to handle.
Add the broccoli to the skillet and cook until lightly browned, about 5 minutes. Remove the pan from the heat.
Chop the bacon.
Remove the pie weights from the crust, then add the broccoli and chopped bacon to the center. Sprinkle with the remaining shredded cheddar cheese.
In a medium bowl, lightly beat the eggs. Add the milk, remaining ½ teaspoon salt, and the pepper. Whisk to combine.
Pour the egg mixture over the fillings in the crust.
Bake for 35-40 minutes, or until the eggs are set and the top is lightly browned. Cover the edges with tinfoil if they are starting to burn.
Let the quiche cool for 15 minutes before slicing and serving.
Enjoy!
Watch the recipe video here:
Saving this Cheddar-Crusted Bacon Broccoli Quiche for a perfect weekend brunch ?Get The Recipe: https://tasty.co/recipe/cheddar-crusted-bacon-broccoli-quiche

Posted by BuzzFeed Food on Friday, April 19, 2019