Animal Doughnuts By Alexander Roberts
Take a walk on the wild side with these adorable animal donuts! 🐯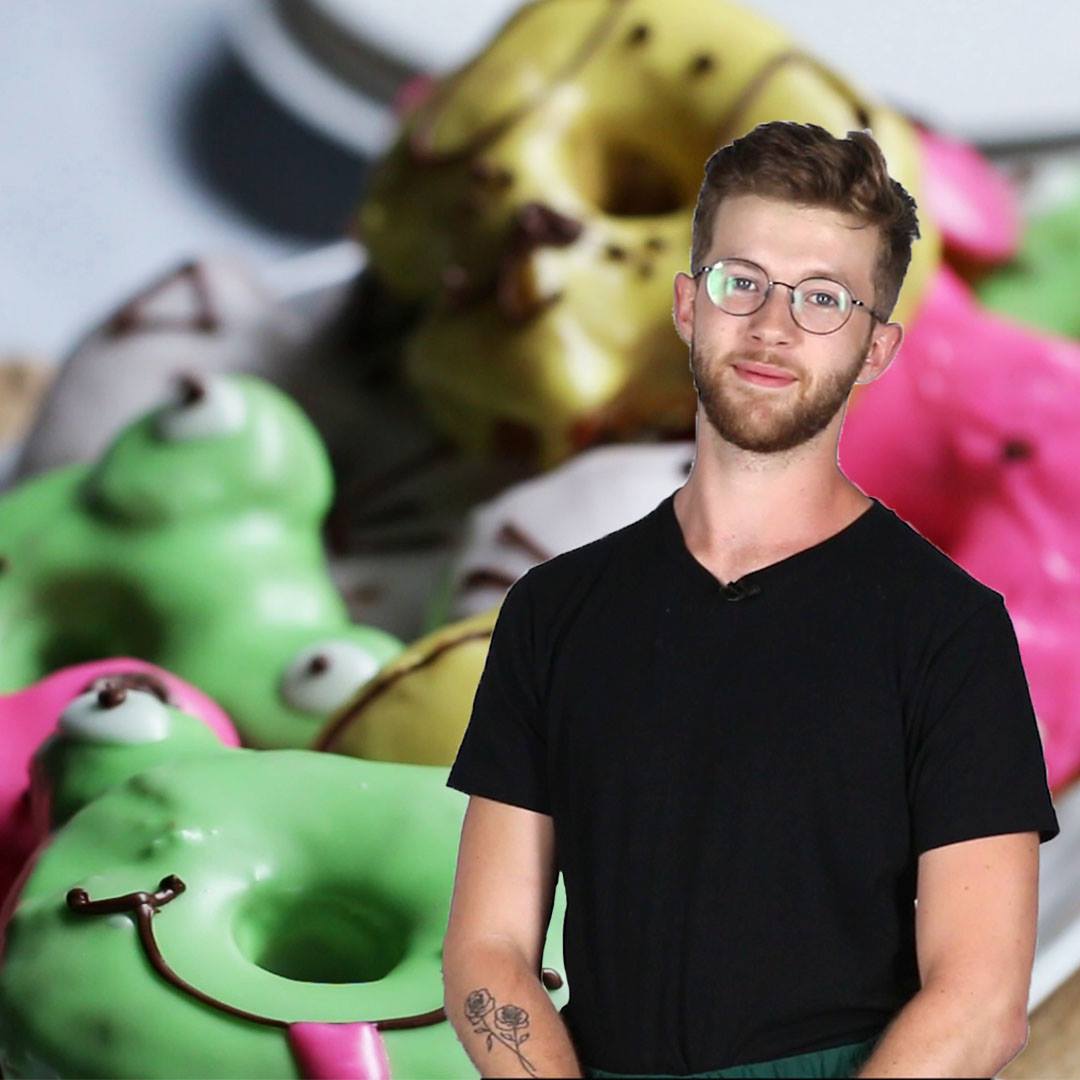 Ingredients
2 qt (1.8 L) peanut oil, or vegetable oil
4 ½ cups (560 g) all-purpose flour, plus more for dusting
1 ¼ cups (250 g) granulated sugar
2 teaspoons kosher salt
1 teaspoon baking powder
½ teaspoon baking soda
4 tablespoons unsalted butter, cold, cubed
1 cup (240 mL) buttermilk
2 large egg yolks
2 large eggs
1 tablespoon vanilla extract
4 cups (480 g) powdered sugar, sifted
1 tablespoon honey
¼ cup (60 mL) milk
food coloring, of your choice, optional
Instructions
Heat the oil in a large pot until it reaches 350˚F (180˚C). Line a baking sheet with parchment paper and dust with flour.
Add the flour, granulated sugar, salt, baking powder, and baking soda to a large bowl. Whisk to combine.
Rub the butter cubes into the dry mixture until well-incorporated and no large chunks remain.
In a small bowl or liquid measuring cup, combine the buttermilk, egg yolks, eggs, and vanilla. Whisk with a fork to combine.
Make a well in the center of the dry ingredients. Pour the wet ingredients into the well and fold together gently with a spatula until no flour streaks remain.
Flour a clean surface and dump the dough from the bowl. Sprinkle a generous amount of flour on top of the dough and shape into a disc.
Wrap the dough in plastic wrap and chill in the refrigerator for 15 minutes.
Remove the dough from the refrigerator, sprinkle with more flour, and roll out to ½ inch (1-cm) thick.
Flour a 3½-inch (9-cm) round cookie cutter and cut rounds from the dough, then cut out the centers using a ½-inch (1-cm) cookie cutter.
Place the cut doughnuts on the prepared baking sheet. Reroll the leftover dough, keeping the cut-out centers, to make more doughnuts.
Make the animal shapes: For cat doughnuts, cut a small triangle out of the top of a doughnut. For dog doughnuts, use the small cookie cutter to cut 2 half circles out of the bottom of the doughnut and press the cut edges to round. For the bear and frog doughnuts, use a wet finger to press 2 divots at the top of a doughnut, then attach 2 cut-out centers for ears. Flip the doughnuts over so the side with the centers is against the baking sheet.
Working in batches, lower the doughnuts carefully into the hot oil. Fry for about 1 minute, then flip and fry for another minute, until golden brown all over. Remove the doughnuts from the oil using tongs or a spider. Cool on a wire rack for 2-3 minutes.
To make the glaze, add the powdered sugar, honey, and ¼ cup (60 ml) of milk to a large bowl and whisk until smooth. Add food coloring of your choice, if desired.
Dip the doughnuts in the glaze. Return to the wire rack and let dry.
Decorate, if desired. Use melted chocolate and leftover glaze to pipe faces onto the different animal doughnuts.
Enjoy!
Watch the recipe video here:
Animals Doughnuts by Alexander Roberts

Take a walk on the wild side with these adorable animal donuts! 🐯FULL RECIPE: https://tasty.co/recipe/animal-doughnuts-by-alexander-roberts

Posted by Tasty on Saturday, July 28, 2018