Cheesy Beef Loaded Fries
A big, steaming pile of meat on your fries is everyone's dirtiest fantasy. As ever, we here at Twisted are here to help you actualise your dreams. Don't let "the man" tell you what you can and can't do - put your beef stew on your fries if you want. You know you've always wanted to.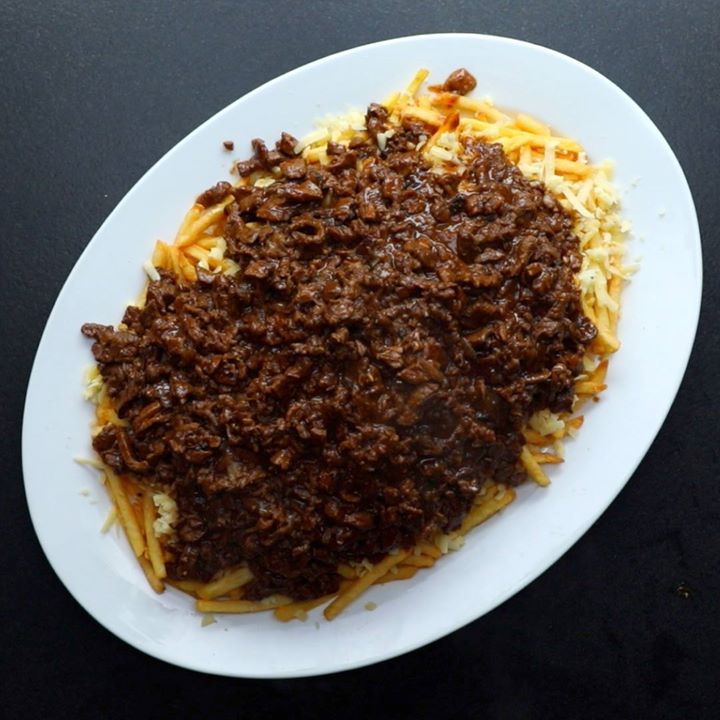 Ingredients
1 tbsp oil
2.2 lb sirloin steak, cut into thin strips
3 tbsp flour
1 tbsp salt
1 tbsp pepper
1 onion, sliced roughly
1 tbsp tomato puree
2 cups beef stock
1 cup wine
Thyme
Instructions
Heat the oil in a large, deep pan with a lid. Add the steak pieces and fry until they have a nice colour, then stir in the flour and seasoning and cook until the steak has browned all over. Remove from the pan.
Add the onions and fry until soft, then add the garlic, tomato puree, stock, wine and thyme. Deglaze some of the sticky bits from the bottom of the pan. Bring to a simmer and cover with a lid and leave, stirring occasionally, for about 40 minutes, or until the beef has softened.
Put the fries on a platter and sprinkle with the cheddar, then pour over the beef stew.
Eat.
Watch the recipe video here:
Cheesy Beef Loaded Fries

Posted by Twisted on Monday, March 5, 2018