Birds Eye Fish Finger Lasagne
Our latest collaboration with Birds Eye features layers of their legendary Fish Fingers, stacked with peas, greens and creamy sauce to create the ultimate Fish Finger lasagne. Move over, mince. There's a new family favourite on the table.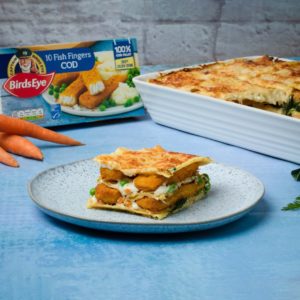 Ingredients
30 Birds Eye Fish Fingers
50g Unsalted Butter
1 large carrot, finely chopped
2 large leeks, finely chopped
60g Plain Flour
800ml Semi-Skimmed Milk
100g grated parmesan
Freshly ground Black Pepper
200g Birds Eye Peas, cooked
400g Fresh spinach, wilted
6 Fresh Lasagna Sheets
Instructions
Preheat the oven to 180°C.
Place the Fish Fingers on a baking tray and bake until crispy and golden.
Meanwhile heat half the butter in a saucepan until foaming. Add the carrots and cook for around 5 minutes, then add the leeks and continue cooking until soft.
Add the rest of the butter and flour and cook out for a minute or so until smelling biscuity.
Pour in the milk gradually, beating it in with a wooden spoon, until you have a thick sauce. Bring to a simmer and cook for a few minutes then add most of the parmesan.
Use a little oil to grease a medium sized baking dish and add a layer of the sauce. Place the first layer of lasagna sheets on top.
Top with another layer of the sauce, half the fish fingers, spinach, peas. Top with lasagna sheets and repeat again, topping with a final layer of lasagna sheets, sauce and sprinkling of parmesan.
Bake for around 30 minutes until golden and bubbling.
Watch the recipe video here: