All-American Strawberry Pie
Sweet, red strawberries combined with pretty, tart blueberries, all layered atop a creamy vanilla pudding...that makes a red-white-and-blue pie that my grandmother would serve every Fourth of July!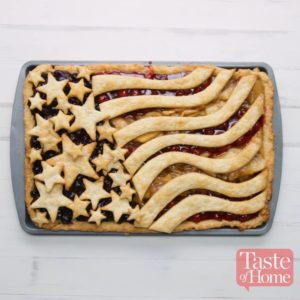 Ingredients
¾ cup sugar
½ cup all-purpose flour
¼ teaspoon salt
3 cups whole milk
3 large egg yolks, lightly beaten
2 tablespoons butter
1-1/2 teaspoons vanilla extract
½ pint heavy whipping cream
1-1/2 tablespoons confectioners' sugar
1 pie shell (9 inches), baked
1 pint fresh strawberries, halved
1 cup fresh or frozen blueberries
Instructions
In a 3-qt. saucepan, combine sugar, flour and salt. Add milk, stirring until smooth. Cook and stir over medium heat until thickened. Stir in small amount of milk mixture into yolks, then return all to saucepan. Cook, stirring for 2 minutes. Remove from the heat; stir in butter and vanilla. Cool 20 minutes.
Pour into pie shell; chill several hours until firm. Whip cream and sugar; spread half over pie filling. Arrange berries on cream. Dollop or pipe remaining cream around edge of pie.
Watch the recipe video here: