Zucchini Fry Nachos
Why should tortilla chips have all the fun? Turn the humble zucchini into crunchy disks and then dress them up with all the fixings.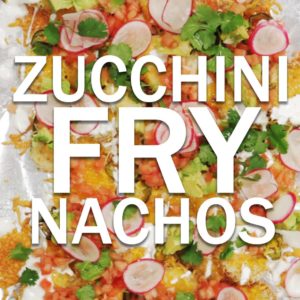 Ingredients
Nonstick cooking spray
½ cup all-purpose flour
Kosher salt
3 large eggs, beaten
2½ cups panko breadcrumbs (See Cook's Note)
1 pound zucchini (2 to 3 small to medium zucchini), cut into ¼-inch-thick rounds
1½ cups shredded Mexican-blend cheese (about 4.5 ounces)
¼ cup sliced pickled jalapenos
½ cup sour cream
1 cup pico de gallo or salsa
1 small avocado, diced
1 radish, thinly sliced
A small handful cilantro leaves and tender stems
A small handful cilantro leaves and tender stems
1 lime, quartered
Instructions
Special equipment: 2 wire racks 2 rimmed baking sheets
Adjust 2 oven racks to the top and bottom thirds of the oven and preheat to 425 degrees F. Put the wire racks in the baking sheets and coat each generously with cooking spray.
Combine the flour and ¾ teaspoon salt in a large re-sealable plastic bag. Combine the eggs and ¾ teaspoon salt in another large plastic bag; combine the breadcrumbs and ¾ teaspoon salt in a third large plastic bag.
Add about a half of the zucchini rounds to the flour, and use a combination of your hands and shaking the bag to coat the zucchini. Remove the zucchini and shake off any excess flour. Transfer to the egg wash and repeat until coated. (It's less messy if you use only one hand for the dry ingredients and the other for the wet.) Let any excess egg drip off before transferring to the breadcrumb mixture; repeat until fully coated (you'll still see some green and white of the zucchini peeking through the breading). Transfer to the prepared baking sheets and coat the breaded zucchini generously with cooking spray (there's no need to turn them). Repeat with the remaining zucchini.
Bake, rotating the baking sheets from top to bottom about halfway through, until golden brown and tender, 25 to 30 minutes.
Lower the oven to 350 degrees F and let the baking sheet cool for a few minutes. Remove the rack from one of the baking sheets and line the baking sheet with foil. Slide the baked zucchini onto the baking sheet and scatter the cheese and jalapenos on top. Bake until the cheese melts, about 10 minutes. Thin the sour cream out with a little water, until it's pourable, and drizzle over the nachos. Then garnish with the pico de gallo, avocado, radish and cilantro. Serve with lime on the side.
Cook's Note:
Some panko breadcrumbs are coarser then others. Rub the breadcrumbs with your fingers to make them finer, which will help them coat the zucchini pieces better.
Watch the recipe video here: