Rich French Onion Soup
When entertaining guests, I bring out this savory soup while we're waiting for the main course. It's simple to make—just saute the onions early in the day and let the soup simmer until dinner-time. In winter, big bowls of it make a warming supper with a salad and biscuits. —Linda Adolph, Edmonton, Alberta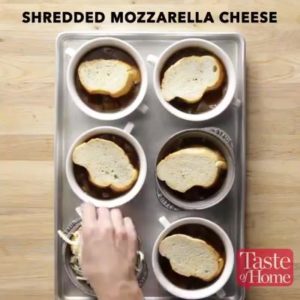 Ingredients
6 large onions, chopped
½ cup butter
6 cans (10-1/2 ounces each) condensed beef broth, undiluted
1-1/2 teaspoons Worcestershire sauce
3 bay leaves
10 slices French bread, toasted
Shredded Parmesan and shredded part-skim mozzarella cheese
Instructions
In a large skillet, saute onions in butter until crisp-tender. Transfer to a 5-qt. slow cooker. Add the broth, Worcestershire sauce and bay leaves.
Cover and cook on low for 5-7 hours or until the onions are tender. Discard bay leaves.
Ladle soup into ovenproof bowls. Top each with a slice of toast; sprinkle with desired amount of cheese. Place bowls on a baking sheet. Broil for 2-3 minutes or until cheese is lightly golden.
Watch the recipe video here: