Sunny Flower Cake
I made this flower cake for my niece's 4th birthday party, and again for a baby shower. It was the hit of the party!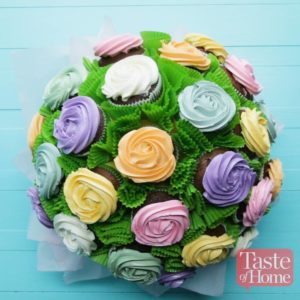 Ingredients
19 cupcakes of your choice
Frosting of your choice
Food coloring
Assorted cake decorations
Instructions
Place one cupcake in the center of a large platter; arrange six cupcakes around the center cupcake. Add an outer ring of remaining cupcakes, forming a flower shape.
Tint frosting as desired; generously spread over tops of cupcakes. Pipe on additional frosting to define the flower petals and center. Decorate as desired.
Watch the recipe video here: