Strawberry Shortcake Trifle
Spring is coming! Strawberry Shortcake Trifle needs to be on your "to-make" list. ??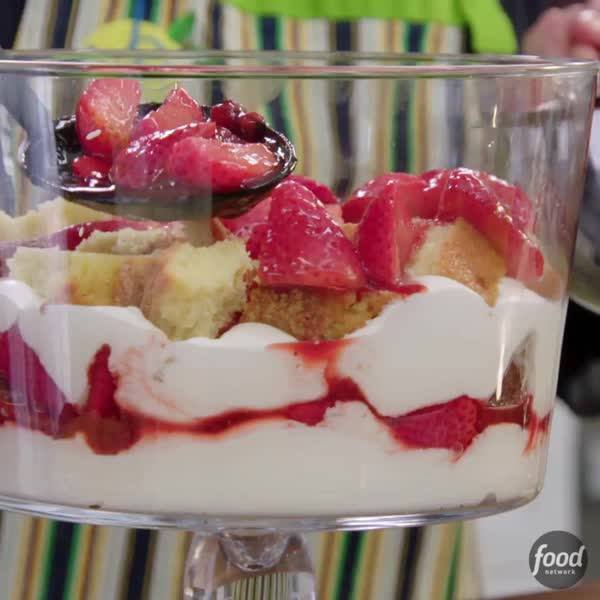 Ingredients
Pound Cake:
2 sticks (1 cup) unsalted butter, at room temperature, plus more for the pan
1¾ cups all-purpose flour
1 teaspoon baking powder
½ teaspoon kosher salt
1½ cups granulated sugar
5 large eggs
¼ cup heavy cream
2 teaspoons vanilla
Strawberries:
One 12-ounce jar strawberry preserves
2 pounds strawberries, trimmed and halved
1 tablespoon lemon juice
Sugar, optional
Cream Layer:
16 ounces cream cheese, at room temperature
⅔ cup confectioners' sugar
3½ cups heavy cream
1 tablespoon fresh lemon juice
1 teaspoon vanilla
Instructions
Special equipment:
a 9-by-5-inch loaf pan; a trifle bowl
For the pound cake:
Preheat the oven to 350 degrees F. Butter a 9-by-5-inch loaf pan.
Whisk the flour, baking powder and salt together in a medium bowl.
In a large bowl, combine the butter and sugar, and beat with an electric mixer on high speed until light and fluffy, about 3 minutes. Add the eggs, one at a time, beating well after each addition. After the last egg, continue to beat on high speed for 5 minutes. Beat in the heavy cream and vanilla. Add the flour mixture and beat on low until just incorporated.
Spoon the batter into the prepared loaf pan and bake until a wooden pick inserted into the center comes out clean, about 1 hour 10 minutes. Cool the pound cake in the pan for 10 minutes, then turn it out onto a rack to cool completely. (The pound cake can be made up to 2 days ahead; store at room temperature, well wrapped.)
For the strawberries:
Heat the strawberry preserves in a medium saucepan over medium-high heat until just warm. Add the strawberries and ¼ cup water, and bring to a simmer; simmer until the strawberries are just beginning to soften, about 5 minutes. Stir in the lemon juice. Add a little sugar to taste if desired. Cool completely. (The strawberries can be made up to 1 day ahead; refrigerate in an airtight container.)
For the cream layer:
In a large bowl, beat together the cream cheese and confectioners' sugar with an electric mixer until very smooth and light. Add a little bit of the cream, and beat to loosen. Beat in the remaining cream, a little at a time, until the mixture just holds stiff peaks, stopping occasionally to scrape the bottom of the bowl with a rubber spatula. Beat in the lemon juice and vanilla.
To assemble the trifle:
Cut the pound cake into 1½-inch cubes. Spoon a little more than a quarter of the cream into the bottom of a trifle bowl. Top with a third of the pound cake, followed by a third of the strawberries and their juices. Repeat the layers, starting with cream, then cake, then strawberries. Top with the remaining cream and a few strawberries. Cover and refrigerate at least 4 hours and up to overnight.
Watch the recipe video here:
Spring is coming! Strawberry Shortcake Trifle needs to be on your "to-make" list. ??Watch Valerie Bertinelli's #HomeCooking Saturdays 12|11c.

Posted by Food Network on Friday, March 16, 2018