S'mores Cheesecake Bars
Gimme s'more!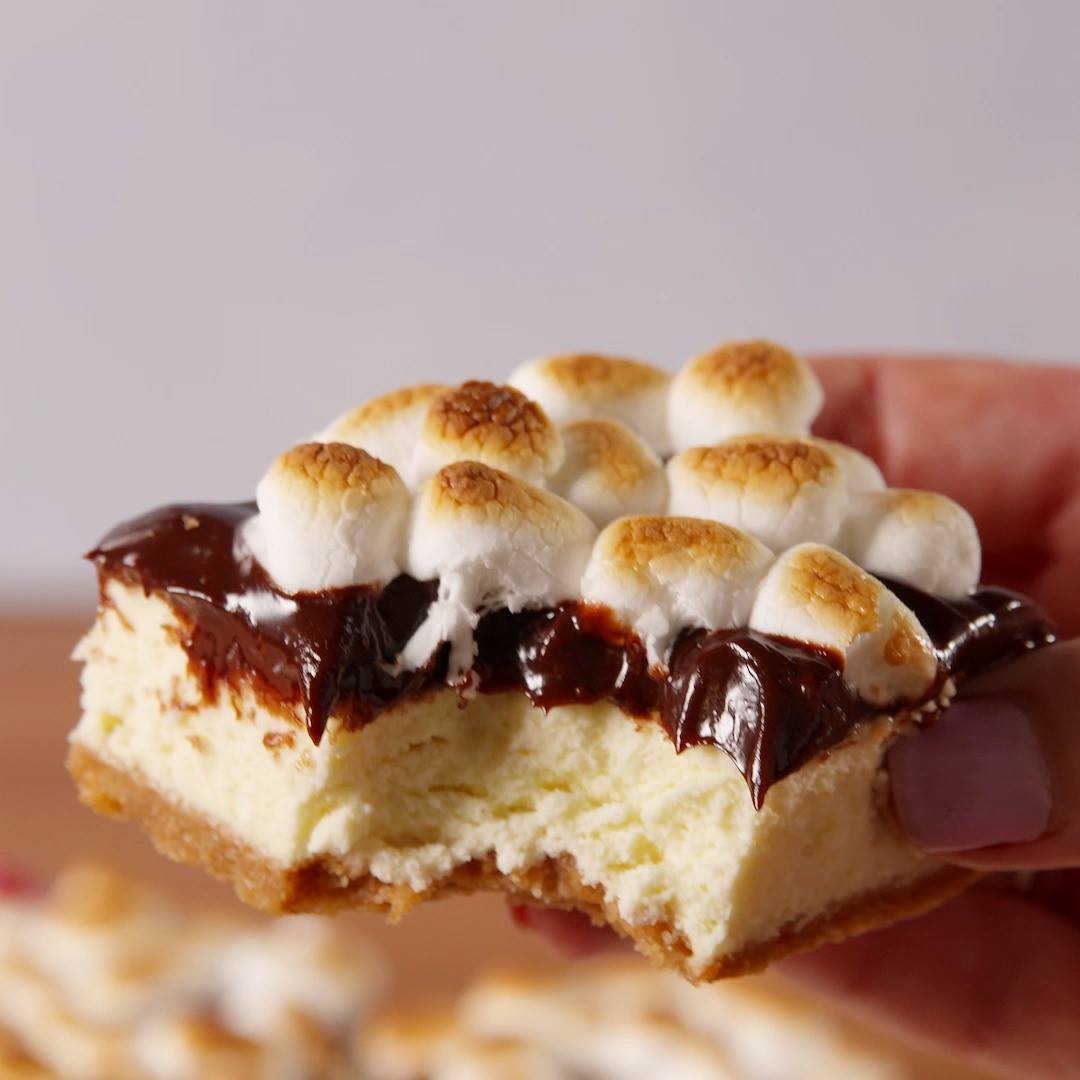 Ingredients
FOR THE CRUST
9 graham crackers (1 sleeve), crushed into fine crumbs
6 tbsp. butter, melted
2 tbsp. sugar
pinch of kosher salt
FOR THE CHEESECAKE
2 8-oz. blocks cream cheese, softened
¾ c. sugar
2 large eggs
¼ c. sour cream
½ tsp. pure vanilla extract
pinch of kosher salt
FOR THE TOPPING
1½ c. semisweet chocolate chips
¾ c. hot heavy cream
2 c. mini marshmallows
Instructions
Preheat oven to 325º and line a 9"-x-9" pan with foil. Make the crust: In a large bowl, stir together graham crackers, butter, sugar and salt until completely combined and moist. Set aside.
Make the cheesecake: In a large bowl using a hand mixer or in a stand mixer using the whisk attachment, beat cream cheese, sugar, eggs, sour cream, vanilla and salt until completely smooth.
Spray crust with cooking spray, then add crust to foil and pack in tightly. Pour over cheesecake mixture and smooth top.
Bake until only slightly jiggly, 35 minutes. Let cool, then refrigerate until firm, 3 hours, or up to overnight.
Make the ganache: Place chocolate chips in a small heat-proof bowl and pour over hot heavy cream. Let sit 2 minutes, then whisk until no clumps remain.
Pour ganache over cheesecake bars and spread with a spatula. Top all over with mini marshmallows and broil until golden, 2 to 3 minutes.
Slice into bars and serve.
Watch the recipe video here: