Sheetpan Chicken Caprese Paninis
SHEETPAN CHICKEN CAPRESE GRILLED SANDWICHES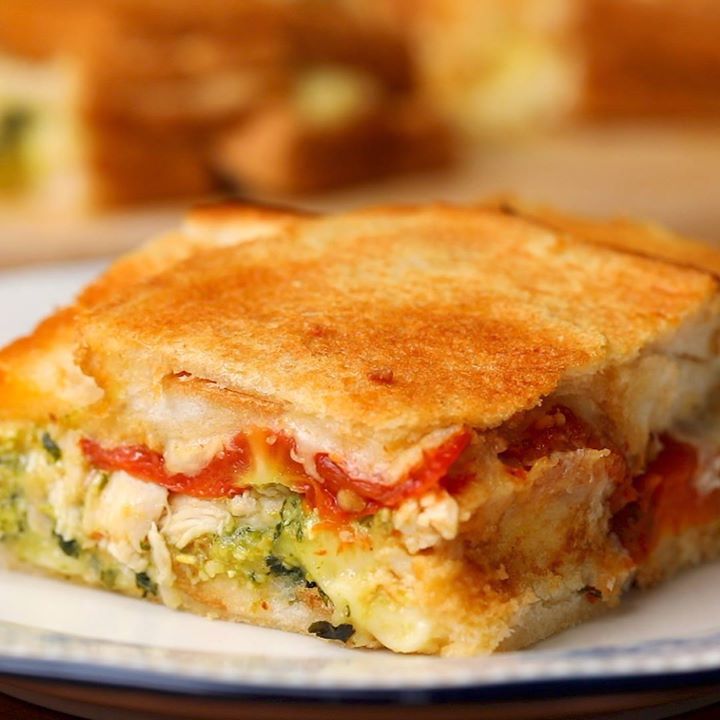 Ingredients
16 slices white bread
1 cup fresh pesto
6 tomatoes, sliced
3 tbsp balsamic vinegar
2 tbsp olive oil
salt and pepper
2 cups shredded chicken
sliced mozzarella
¼ cup melted butter
Instructions
Pop your tomato slices in a non-stick baking tray along with the vinegar, oil, salt and pepper. Toss to coat. Roast at 160°C for 45 minutes. Cool.
Put half of the melted butter in a clean sheetpan and brush to distribute. Lay down 8 slices of bread, overlapping slightly. Top with mozzarella, pesto, chicken, roasted tomatoes and a little more mozzarella. Top with 8 more slices of bread, brush with the remaining butter, then cover with a piece of parchment paper and weigh down with a heavy tray. Bake for 30 minutes at 200°C. Remove the tray and the paper then grill for 5 minutes, or until golden.
Transfer to a board, dice into mini sandwiches then dig in!
Enjoy!
Watch the recipe video here: