Santa Hat Crispy-Treat Cheesecake Squares
Crunchy and gooey rice cereal marshmallow treats are an unexpected yet delightful crust for a creamy cheesecake topping. Fresh strawberries on top form cute Santa hats and also provide a burst of bright acidity to cut through all of the richness.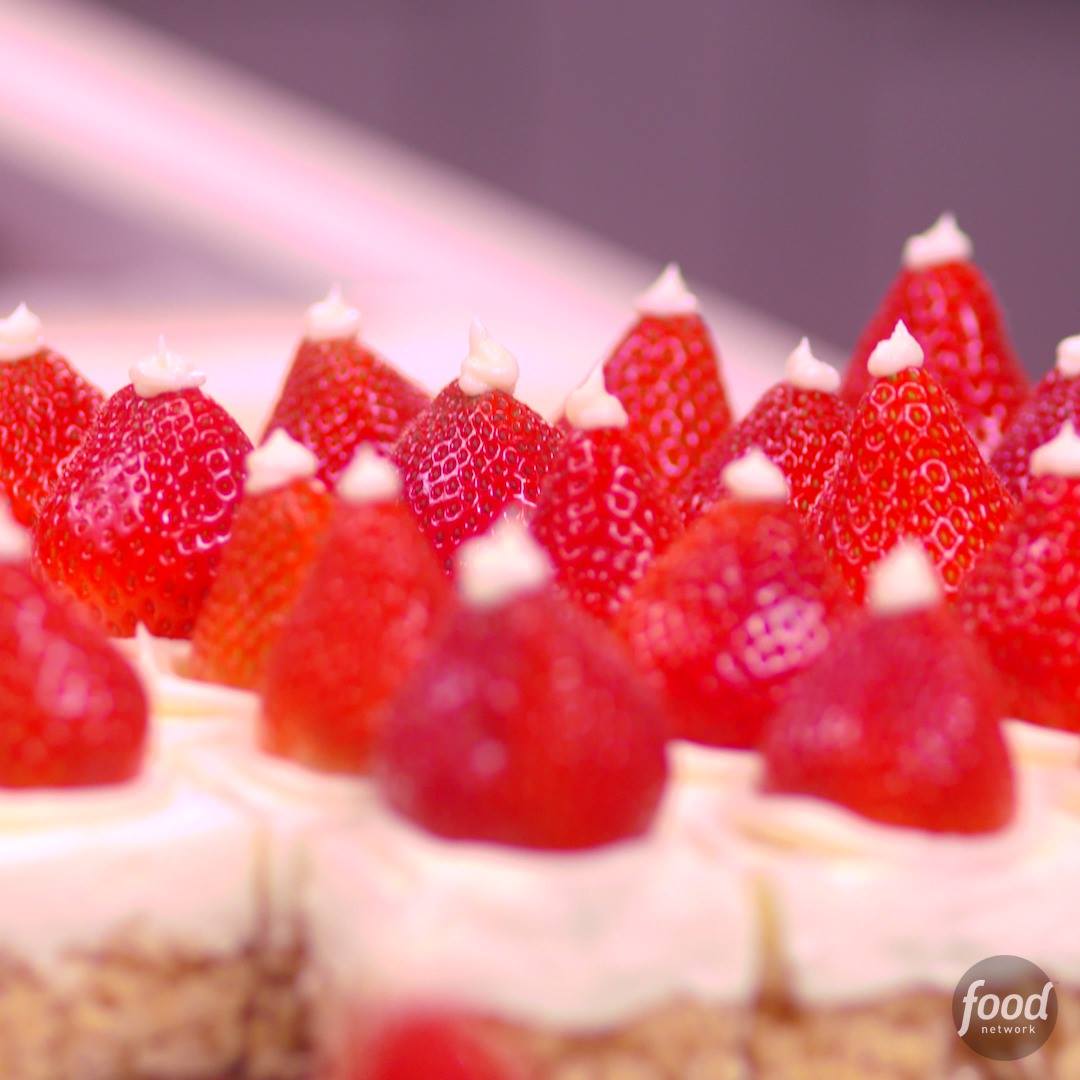 Ingredients
Cheesecake Squares:
Cooking spray
3 tablespoons unsalted butter
5 ounces mini marshmallows (about 1 cup tightly packed)
2 teaspoons honey
1 teaspoon pure vanilla extract
Kosher salt
4 cups crispy rice cereal
One ¼-ounce package unflavored powdered gelatin
Two 8-ounce packages cream cheese, at room temperature
1 cup sour cream
1 cup confectioners' sugar
1 tablespoon fresh lemon juice
25 medium strawberries, hulled
Frosting:
2 tablespoons unsalted butter, at room temperature
2 tablespoons cream cheese, at room temperature
½ cup confectioners' sugar, sifted
¼ teaspoon vanilla extract
Instructions
Special equipment: a piping bag or a resealable plastic bag
Line a 9-inch square pan with foil, leaving a 2-inch overhang on two sides. Lightly coat the foil and a wooden spoon with cooking spray.
For the cheesecake squares: Melt the butter in a medium saucepan over medium heat. Add the marshmallows, honey, ½ teaspoon vanilla and a pinch of salt, and stir with the wooden spoon until the marshmallows have completely melted, 4 to 5 minutes. Add the rice cereal, and stir until the mixture is fully combined. Transfer the mixture to the prepared pan, and press into an even layer while warm. Let sit at room temperature until firm, about 20 minutes.
Combine the gelatin with 2 tablespoons water in a small microwave-safe bowl, and set aside to soften, about 5 minutes. Beat the cream cheese on medium-high speed with an electric mixer until completely smooth, about 1 minute. Scrape down the sides of the bowl. Add the the sour cream, sugar, lemon juice, remaining ½ teaspoon vanilla and a pinch of salt, and beat on medium-high speed until smooth, about 1 minute.
Microwave the gelatin in 10-second increments, stirring as needed, until it dissolves, 30 to 50 seconds. Pour the gelatin into the cream cheese mixture, and beat on medium-high speed until incorporated, about 30 seconds.
Pour the cream cheese mixture over the cooled crispy treat layer, and spread out evenly with an offset spatula or butter knife. Wrap the pan loosely with plastic wrap, and refrigerate until the cheesecake layer is set, about 2 hours or up to overnight.
For the frosting: Whisk together the butter and cream cheese by hand in a medium bowl. Add the sugar and vanilla and whisk until smooth and creamy.
Cut the cheesecake bites into twenty-five 1¾-inch squares. Transfer the frosting to a piping bag or resealable plastic bag. Cut a ¼-inch hole in the corner of the piping bag. Pipe a circle of frosting on the top of each square, about the diameter of the base of a strawberry. Place a strawberry cut side-down on top of each frosting circle, pushing down gently so that the frosting comes up around the bottom of the strawberry and resembles the base of a Santa hat. Pipe a ball of frosting on the tip of each strawberry for a pom-pom.
Watch the recipe video here: