Pull-Apart Crescent Meatball Sliders
These yummy pull-apart meatball sliders are easy to put together and use ingredients you probably already have in your fridge and pantry.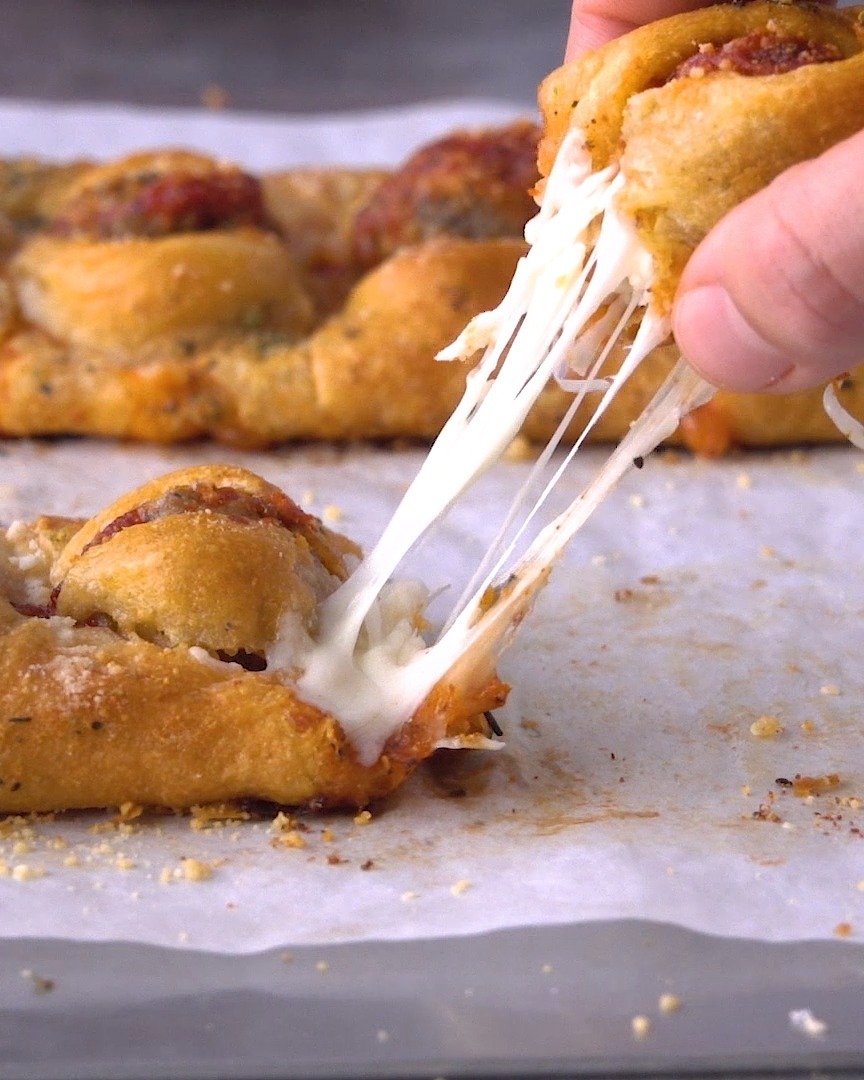 Ingredients
16 frozen Italian meatballs (1/2 oz each)
1 can (8 oz) Pillsbury™ refrigerated crescent rolls
1 cup shredded mozzarella cheese (4 oz)
½cup tomato basil pasta sauce (from 28-oz jar)
2 tablespoons butter, melted
1 teaspoon Italian seasoning
½ teaspoon garlic powder
2 tablespoons grated Parmesan cheese
Instructions
Heat oven to 350°F. Line large cookie sheet with cooking parchment paper. Make meatballs in microwave as directed on package; set aside to cool slightly. Unroll and separate dough into 2 long rectangles. Place on cookie sheet 1 inch apart. Firmly press edges and perforations to seal. Press each dough sheet into 14x4-inch rectangle.
Sprinkle mozzarella cheese down center of both pieces of dough. Space 8 meatballs evenly over cheese on each piece of dough. Spoon pasta sauce over meatballs. Press ends together to seal.
Starting from one end, stretch and pull both sides of dough up and between each meatball; press together to seal.
With table knife, score dough between meatballs.
In small bowl, mix melted butter, Italian seasoning and garlic powder. Brush evenly over dough. Sprinkle with Parmesan cheese.
Bake 26 to 30 minutes or until dough is deep golden brown and meatballs are hot in center (at least 165°F). Serve with additional warmed pasta sauce for dipping.
Watch the recipe video here: