Pineapple Upside Down Pancakes
These pineapple upside down pancakes are a great way to upgrade breakfast ? !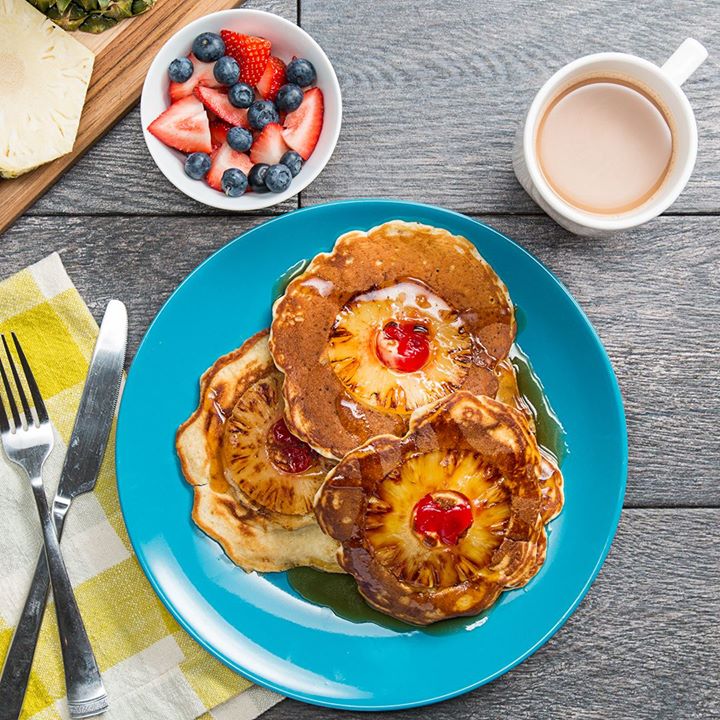 Ingredients
2 cups (250 g) flour
2 teaspoons baking powder
1 ½ teaspoons baking soda
½ teaspoon salt
¼ cup (50 g) sugar
1 ½ cups (355 mL) milk
½ teaspoon vanilla extract
½ cup (110 g) butter, ¼ cup (55g) melted, plus additional for frying
¼ cup (55 g) brown sugar
1 ½ fl oz (45 mL) spiced rum, optional
20 oz (600 mL) canned pineapple ring with juice, 1 can, we got about ½ cup (180 ml) of juice once separated from the fruit
maraschino cherry
Instructions
To a large mixing bowl, add flour, baking powder, baking soda, salt, and sugar. Mix until thoroughly combined.
Create a small well in the middle of the dry ingredients. Add milk, half of the reserved pineapple juice, melted butter, and vanilla extract. Whisk until ingredients combine to form a lumpy batter. Set aside while you make the pineapple syrup.
Add the remaining butter to small sauce pan over medium heat. Once butter is melted, add brown sugar, the remaining pineapple juice, and rum (optional).
Bring ingredients to a boil allowing for the sugar to melt and caramelize. Once mixture is smooth and has the consistency of syrup, remove from heat and set aside.
Melt a small amount of butter in a frying pan over medium heat and add a slice of pineapple. Cook pineapple ring until lightly caramelized on one side, about 2 minutes, before flipping it.
Once flipped, fill the core of the pineapple with 1-2 maraschino cherries before pouring about ¼ cup (30 grams) of the pancake batter over.
Cook until the edges start to set and the top begins to bubble, about 2 minutes, before carefully flipping the pancake--revealing the pineapple underneath. Cook for an additional 90 seconds to 2 minutes until the pancake is cooked through.
Store cooked pancakes in a 200˚F (90˚C) oven until ready to serve.
Serve pancakes warm with reserved pineapple syrup.
Enjoy!
Watch the recipe video here:
These pineapple upside down pancakes are a great way to upgrade breakfast ? !FULL RECIPE: https://tasty.co/recipe/pineapple-upside-down-pancakes

Posted by Tasty on Sunday, March 11, 2018