Mixed Berry Baklava
This colorful, fruit-forward twist on baklava adds strawberries, raspberries and more to this honey-sweet, phyllo dough pastry.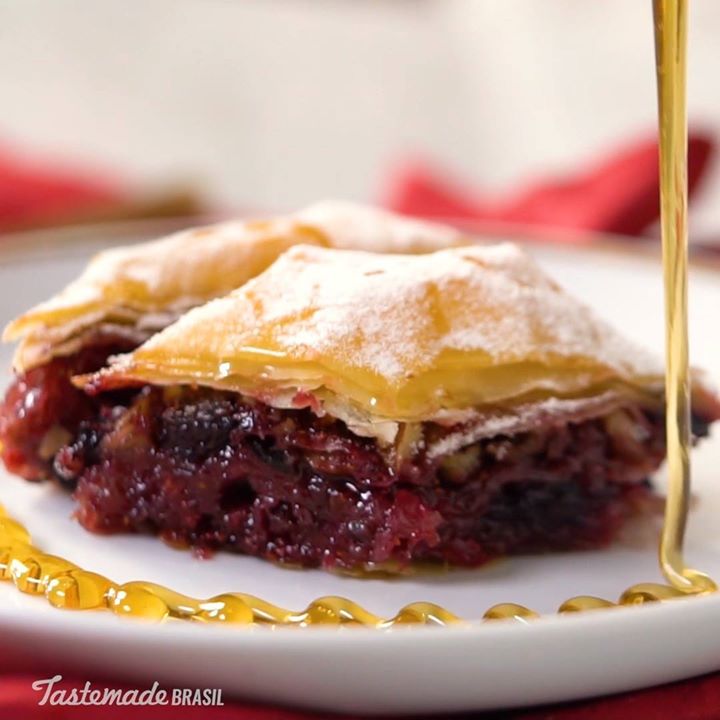 Ingredients
2 cups strawberries, cut in half
1 cup blueberries
¾ cup blackberries
¾ cup raspberries
1¾ cups sugar, divided
Nutmeg
1 cup water
½ cup honey
1 cinnamon stick
1 clove
1 orange peel
1 (10-ounce) package phyllo pastry
½ cup butter, melted
1 cup chopped walnuts
2 tablespoons confectioners sugar
Instructions
In a saucepan, add the strawberries, blueberries, blackberries, raspberries, ¾ cup sugar and nutmeg. Cook for approximately 30 minutes or until it reaches the consistency of jam. Set aside to cool.
Preheat oven to 350 degrees.
In a small saucepan, add remaining sugar, water, honey, cinnamon, clove and orange peel.
Boil until it reaches the consistency of syrup. Set aside to cool.
Brush the bottom of a baking dish with melted butter, add a layer of phyllo pastry, brush with more butter and add another layer of dough.
Cover with a thin layer of red fruit jelly and chopped walnuts.
Continue alternating the double layers of dough (always brushing with butter) and the layers of jelly and nuts.
Finish with a layer of dough, brush with butter and make radial cuts in the shape of a star.
Bake for approximately 45 minutes or until golden brown. Remove from the oven, cover with half the syrup and set aside to cool.
Sprinkle with confectioners sugar and serve with more syrup.
Watch the recipe video here:
We don't always eat baklava, but when we do, we eat the whole tray.Full Recipe: bit.ly/2ByeuBP?: Tastemade Brasil

Posted by Tastemade on Saturday, February 17, 2018