Crescent Breakfast Squares
So easy you could probably make it in your sleep.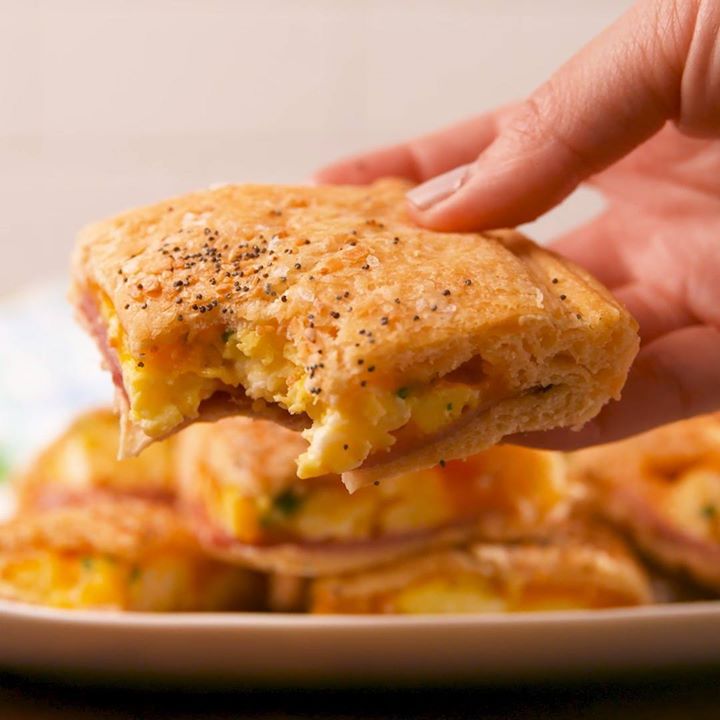 Ingredients
Cooking spray, for pan
2 cans crescent dough
3 tbsp. butter, divided
12 large eggs
¼ c. milk
kosher salt
Freshly ground black pepper
¼ c. finely chopped chives
½ lb. deli ham
12 slices cheddar
1 tsp. sesame seeds
1 tsp. poppy seeds
1 tsp. minced onion
1 tsp. dried garlic
Flaky sea salt
Instructions
Preheat oven to 375° and grease a baking sheet with cooking spray. In a large bowl, whisk together eggs and half-and- half.
In a large nonstick pan over medium heat, melt 1 tbsp. butter. When butter is foamy, reduce heat to low and add egg mixture. Cook, stirring often with a spatula, until eggs are just set. Season with salt and pepper and remove from heat.
Unroll one can of crescents onto greased baking sheet and pinch seams together. Add a layer of ham then top with scrambled eggs, chives and cheese. Unroll second crescent dough and place on top of cheese. Pinch together crescent sheets to seal.
Melt remaining butter in microwave. Brush melted butter on top of crescent dough then sprinkle with poppy seeds, sesame seeds, minced onion, dried garlic, and flaky sea salt.
Bake until crescent dough is golden and cooked through, about 25 to 30 minutes. (If the crescent dough is browning too quickly, cover with foil.)
Let cool for at least 15 minutes before slicing into squares.
Watch the recipe video here: