Mini Pepper Pizzas
You won't miss the carby crust.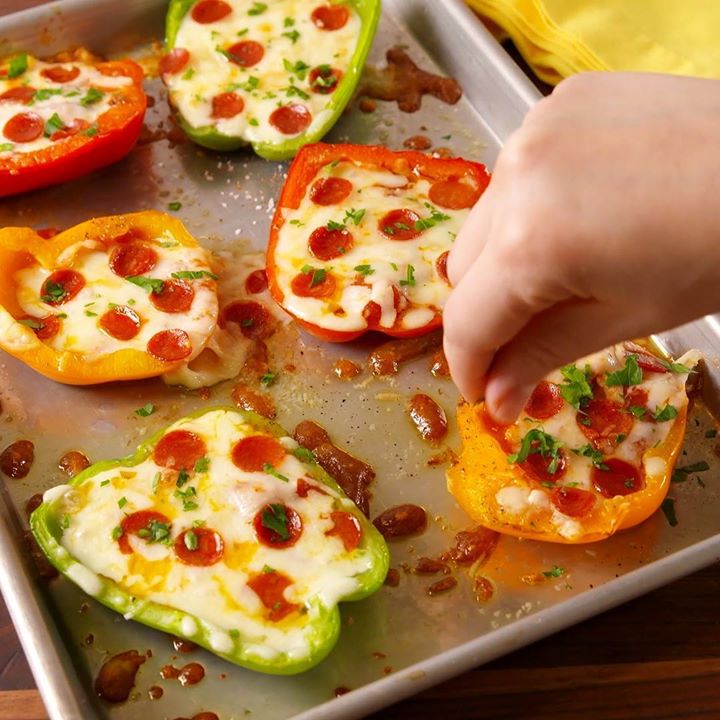 Ingredients
4 bell peppers, halved and cored
1 tbsp. extra-virgin olive oil
kosher salt
Freshly ground black pepper
½ c. pizza sauce
2 c. shredded mozzarella
½ c. finely grated Parmesan
⅓ c. mini pepperoni
1 tbsp. chopped parsley
Instructions
Preheat oven to 350°.
On a sheet tray, drizzle peppers with olive oil and season witih salt and pepper. Spoon sauce onto each pepper half. Sprinkle with mozzarella and Parmesan and top with pepperoni. Bake for 10-15 minutes, until the peppers are crisp-tender and the cheese is melted.
Garnish with parsley.
Watch the recipe video here:
How To Make Mini Pepper Pizzas

Mini Pepper Pizzas will give you your takeout fix without all the carbs.Full recipe: http://dlsh.it/SuUUt8B

Posted by Delish on Thursday, January 4, 2018