Meatball Mozzarella Sticks
Meatball Mozzarella Sticks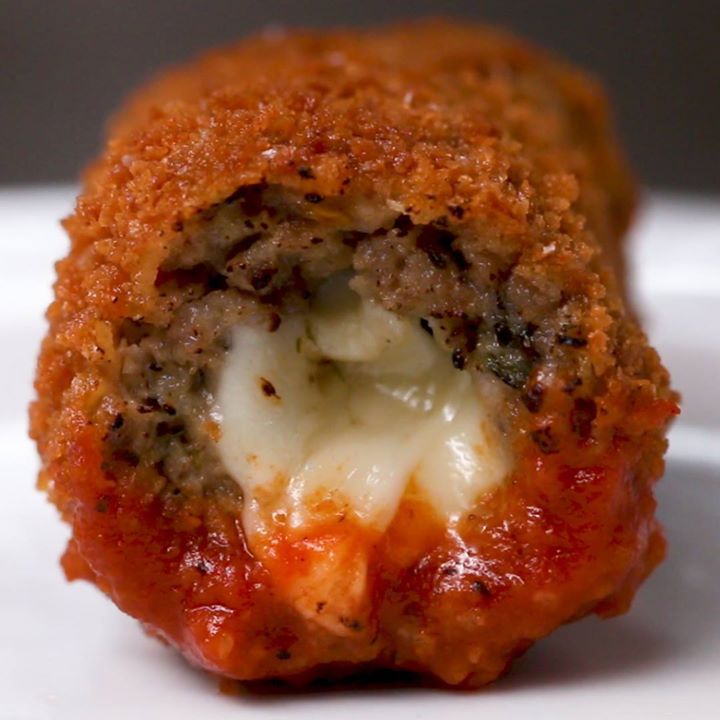 Ingredients
1 lb (455 g) ground beef
1 lb (455 g) ground pork
½ onion, minced
4 cloves garlic, minced
2 eggs
1 cup (115 g) bread crumbs
salt, to taste
pepper, to taste
1 tablespoon dried basil
1 tablespoon dried oregano
1 tablespoon dried parsley
12 sticks string cheese
2 cups (250 g) all-purpose flour
4 eggs, beaten
3 cups (345 g) bread crumbs
marinara sauce, to serve
Instructions
In a large bowl, add the beef, pork, onion, garlic, bread crumbs, beaten eggs, salt, pepper, dried basil, dried oregano, and dried parsley, red pepper flakes. Mix together to combine.
Pick up 2 ounces (55 g) of meat, press into a flat patty on the palm of your hand.
Place a mozzarella stick into the center of the patty and wrap the meatball mixture around it to seal it inside. Repeat with the rest of the mixture.
Take the meatball-wrapped stick of cheese and dredge it in the flour, coat it in beaten egg, and then roll it in bread crumbs. Repeat with the rest.
Place a batch of the sticks into oil at 325°F (180°C), and cook until the outside is golden brown and the beef is cooked through, 5 minutes. Then remove the mozzarella sticks from the fryer and drain on a wire rack. Season with salt.
Serve the meatball mozzarella sticks with marinara sauce.
Enjoy!
Watch the recipe video here:
We combined meatballs + mozzarella sticks and made this genius hybrid! ?FULL RECIPE: https://tasty.co/recipe/meatball-mozzarella-sticks

Posted by Tasty on Monday, May 21, 2018