Marinated Skirt Steak Taquitos
Prepping for game day just got a bit more exciting.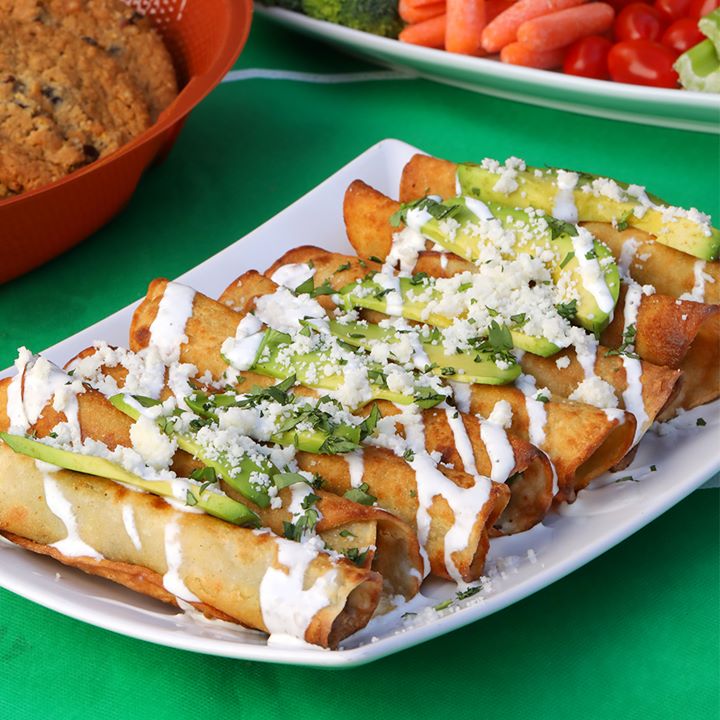 Ingredients
2 garlic cloves, minced
⅓ cup soy sauce
½ teaspoon cumin
2 limes, juiced
½ cup Dr Pepper
1 pound skirt steak
10 ounces cotija cheese
3 avocadoes
18–20 corn tortillas
Cooking oil (vegetable or canola)
Optional toppings:
Crema
Pico de gallo
Cilantro
Guacamole
Additional cotija cheese
Instructions
1. Combine garlic, soy sauce, cumin, lime juice, Dr Pepper, pepper, and skirt steak in a gallon-sized bag. Seal and shake to combine, let the air out of the bag, and marinate in the refrigerator for 2 hours to overnight.
2. After marinating, remove from bag, and discard excess marinade. Grill meat until cooked through.
3. Let meat rest for 10 minutes, then slice into small pieces.
4. Heat ½-inch of oil in a large skillet over medium-high heat.
Wrap tortillas in a damp paper towel and microwave on a plate for 30 seconds.
6. Line up several pieces of meat, cotija, and avocado, then roll the tortilla tightly, but take care not to rip it.
7. Place seam-side-down in oil and once the bottom is golden brown, flip. Remove once both sides are crisp and golden.
8. Top with a drizzle of crema, pico de gallo, chopped cilantro, guacamole, and cotija cheese.
Enjoy!
Watch the recipe video here:
Marinated Skirt Steak Taquitos

Posted by Tasty on Friday, September 22, 2017