Look No Further for a Sandwich of Epic Proportions - This Jalapeno Popper Grilled Cheese Is So Good!
Look no further for ooey gooey goodness that you can whip up on your stove in no time! This Jalapeno Popper Grilled Cheese is a sandwich of epic proportions, and you'll love the spicy-cheesy combo in this. Layer on three types of cheeses, jalapeno, and of course bacon for that addition of salty flavor, and you've got a grilled cheese you'll want to make again and again! Eat them both yourself or share with a friend - this recipe makes two amazing sandwiches!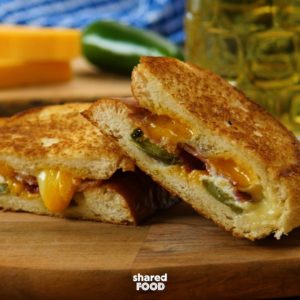 Ingredients
2 jalapenos, sliced lengthwise, seeds and membranes removed
4 ounces cream cheese, softened
4 slices cooked bacon
4 slices Monterey Jack cheese
4 slices Cheddar cheese
4 slices sandwich bread
A few pats of butter
Instructions
Preheat oven to 375 degrees.
Fill each jalapeno half with cream cheese, then bake 25-30 minutes, or until cheese is starting to turn golden brown.
Place two halves of jalapeno, 2 slices bacon, 2 slices Monterey Jack, and 2 slices Cheddar per sandwich (2 sandwiches total).
Heat a pan on medium-low heat, then melt a pat of butter down to coat the pan. Place sandwiches on the pan and cook each side slowly until golden brown and cheese is melted, about 3-4 minutes per side.
Serve immediately. Enjoy!
Watch the recipe video here: