Loaded Garlic Mashed Potatoes
Searching for a problem Trisha Yearwood's Loaded Garlic Mashed Potatoes can't solve ?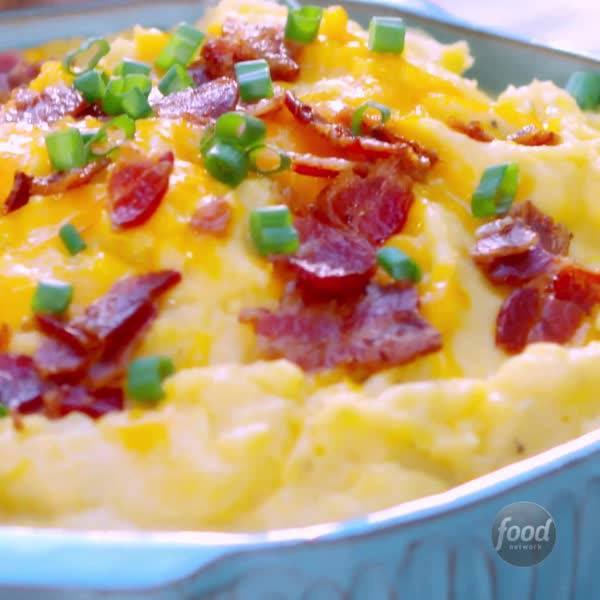 Ingredients
8 ounces bacon (about 10 strips)
1 head of garlic
1 tablespoon olive oil
Kosher salt and freshly cracked black pepper
3 pounds Yukon gold potatoes, peeled and cut into 1-inch chunks
½ cup heavy cream
4 tablespoons salted butter
¼ cup sour cream
2 cups grated sharp Cheddar
3 scallions, thinly sliced on the bias
Instructions
Preheat the oven to 350 degrees F. Place a cooling rack on top of a baking sheet lined with parchment paper.
Spread the bacon over the cooling rack so that none of the slices are touching. Slice the top off the head of garlic so the cloves are exposed. Drizzle the exposed cloves with the olive oil and sprinkle with some salt and pepper, then wrap in aluminum foil to create a packet. Roast both until the bacon is crispy and the garlic is soft, about 30 minutes. Set aside to cool.
Put the potatoes in a pot and cover with water. Add a generous pinch of salt. Bring to a simmer and simmer until the potatoes are tender, about 30 minutes.
Drain the water from the pot and transfer the potatoes to a stand mixer. Add the cream, butter, sour cream, 6 cloves of the roasted garlic and 1¾ cups of the Cheddar to the mixer and whip until combined and smooth. Add additional salt and pepper to taste.
Transfer the potatoes to a serving dish and top with the remaining Cheddar. Crumble the bacon over the top and sprinkle with the scallions. Serve immediately.
Watch the recipe video here: