Loaded Game Day Garlic Knots
Tear and share a twist of joy with these cheesy and pizza covered garlic knots. Covering an all time favourite garlic knot with some of your favourite toppings, these are sure to satisfy!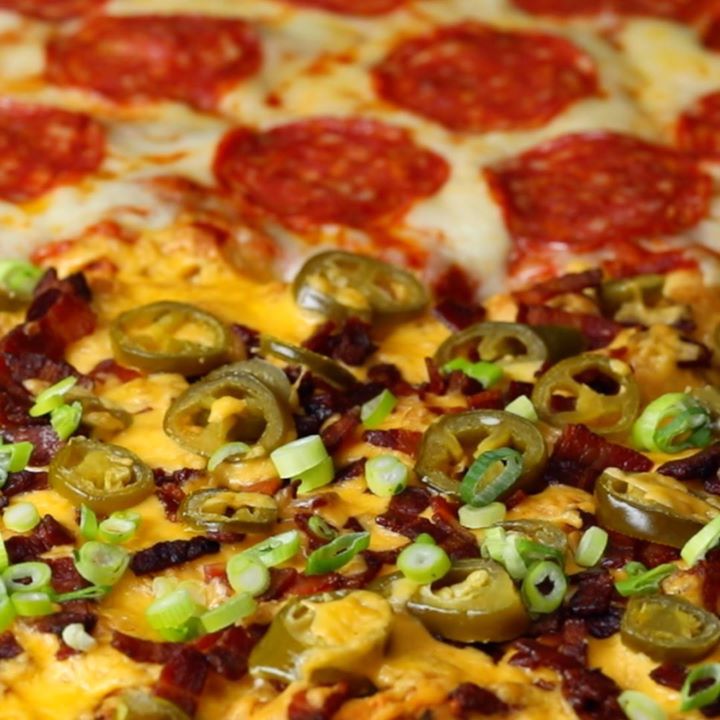 Ingredients
750g pizza dough
½ cup garlic butter
½ cup pizza sauce
2 cups mozzarella cheese
10 sliced pepperoni
2 cups yellow cheddar
12 bacon rashers, cooked and chopped
¼ cup pickled jalapeños
Spring onions, finely chopped
Instructions
Pre-heat oven to 180ºC (350ºF).Separate dough into 30g balls. Roll each into logs and tie into a knot looping around your fingers and pulling one end through tucking the ends.
Arrange knots around the sheet pan 8 across by 5 down
Brush knots liberally with garlic butter. Cover and let rise for 20 minutes, bake uncovered for 30 minutes until golden brown.
Top one half of the knots with yellow cheddar, bacon and jalapeños.
On the other half, spread pizza sauce sprinkle grated mozzarella and pepperoni slices.
Grill/ Broil fo 5 minutes until cheese is melted.
Sprinkle spring onions over yellow cheddar and bacon side.
Enjoy!
Watch the recipe video here:
Loaded Game Day Garlic Knots

Posted by Twisted on Tuesday, January 30, 2018