Jalapeno Jelly Tequila Shots
Can you handle the heat in these spicy jelly shots? Hollowed out, jalapenos become edible shot glasses for jiggly tequila-lime gelatin. Since some jalapenos are spicier than others, you won't know how much burn you have to endure until you bite into one!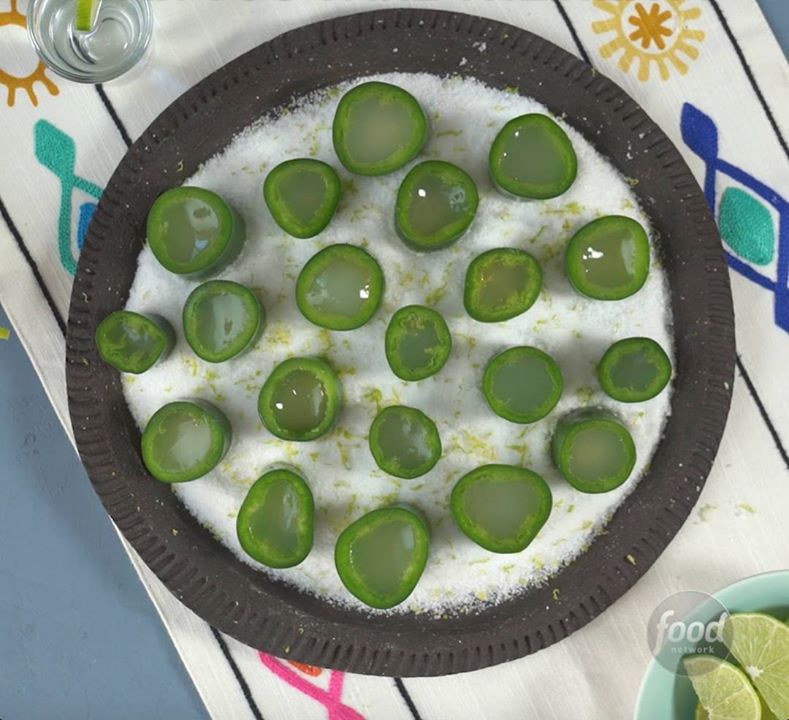 Ingredients
One ¼-ounce package unflavored gelatin powder
1 cup tequila
Finely grated zest of 1 lime plus ½ cup lime juice
12 large jalapenos (about 4 inches in length, not counting the stem)
2 tablespoons sugar
Pinch kosher salt
Instructions
Put ¼ cup cold water in a small microwave-safe bowl and sprinkle over the gelatin. Let stand for 5 minutes to bloom.
Microwave the mixture until the gelatin liquefies, about 20 seconds. Stir to make sure the gelatin is completely dissolved. Combine the tequila and lime juice in a liquid measuring cup and stir in the gelatin mixture.
Cut ¼ inch off the stem end of each jalapeno and use a ¼-teaspoon measure to scoop out the ribs and seeds from each. Stand the jalapenos cut-side up in a plastic container large enough to fit them in a single layer, wedging them as much as possible so they stay in place without causing them to break or change shape. Pour some of the gelatin mixture into each, filling them just to the top (about 2 tablespoons in each). Refrigerate until the gelatin is set, at least 6 hours and preferably overnight.
Combine the lime zest, sugar and salt in a small bowl and rub with your fingers until the lime zest is evenly mixed in.
Using a paring knife, trim off and discard the tapered end of each jalapeno, then cut the jalapenos in thirds crosswise. If not serving right away, put the jalapeno pieces on a baking sheet and return to the fridge to chill until ready to serve, up to 2 hours.
When ready to serve, spread a bed of finely crushed ice on a rimmed serving dish so that it creates a flat surface and arrange the jalapeno pieces on top. Serve with the lime zest mixture on the side.
Watch the recipe video here: