Ice Cube Easter Truffles
Treat the family with these little easter truffles. No baking required and super fun for the kids to get involved too!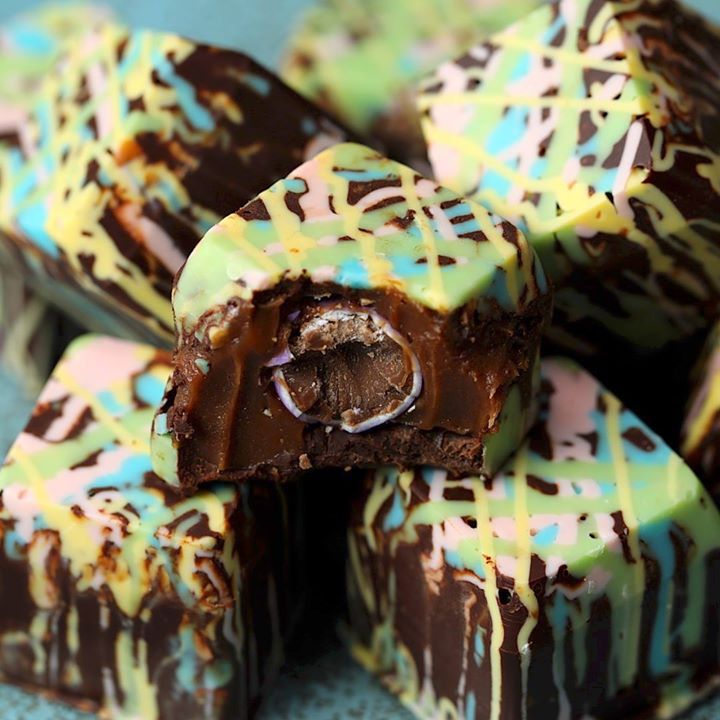 Ingredients
Ganache:
2 tsp corn syrup
150ml heavy cream
300g milk chocolate
Chocolate Coating:
Candy Melts
300g Dark Chocolate
1 tbsp coconut oil
Mini Eggs of choice
Instructions
Melt coloured candy melts of choice until runny. (Add coconut oil if needed).
Drizzle each candy melt colour into a silicone ice cube tray. Let set
Meanwhile, in a microwavable jug, add chopped dark chocolate and coconut oil. Microwave. on high for 2 minutes until completely melted. Pour into ice cube tray and tilt tray in all directions, allowing chocolate to cover the sides. Flip trays upside down to let excess chocolate drip out. Keep remaining chocolate for topping. Then refrigerate for 5 minutes.
Heat cream and corn syrup until steaming but not boiling, about 1-2 minutes in the microwave. Pour over milk chocolate. Let sit for 30 seconds then stir to melt and incorporate. Let cool until room temperature and slightly thickened. Transfer to a piping bag.
Fill each ice cube cavity with ganache and one mini egg in the middle. Cover with ganache.
Top with remaining chocolate (reheat in microwave if needed).
Chill again for 30 minutes or until set.
Enjoy!
Watch the recipe video here:
Ice Cube Easter Truffles

Posted by Twisted on Friday, March 30, 2018