Hearty Winter Vegetable Salad With Black Onion Seed Vinaigrette
Hearty Winter Vegetable Salad With Black Onion Seed Vinaigrette recipe.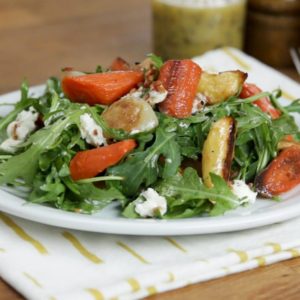 Ingredients
4 cups carrot (480 g), chopped
4 cups turnip (650 g), chopped
4 cups parsnip (400 g), peeled and chopped
2 teaspoons extra virgin olive oil
2 teaspoons kosher salt, plus more to taste
1 teaspoon Schwartz® ground black pepper
6 cups fresh arugula (600 g)
½ lb bacon (225 g), cooked and crumbled
¼ cup crumbled goat cheese (30 g)
BLACK ONION SEED VINAIGRETTE
1 teaspoon Schwartz® Black Onion Seeds
1 teaspoon Schwartz® Mustard Seeds
¼ teaspoon kosher salt
1 tablespoon dijon mustard
¼ cup apple cider vinegar (60 mL)
2 tablespoons honey
¼ cup extra virgin olive oil (60 mL)
Instructions
Preheat the oven to 425˚F (220˚C).
Cut up the vegetables and on a baking sheet, toss together the carrots, turnips, parsnips, olive oil, salt, and pepper.
Roast the vegetables until crispy and tender, 30-35 minutes.
Make the vinaigrette: In a small pan over medium-high heat, combine the Schwartz Black Onion Seeds and Schwartz Mustard Seeds and toast, stirring continuously, until fragrant, about 3 minutes.
In a blender, combine the toasted spices, salt, mustard, apple cider vinegar, and honey. Blend on high speed until the spices are fully ground and the mixture is smooth. With the blender running, slowly drizzle in the olive oil until emulsified.
Transfer the roasted vegetables to a large bowl and pour in ⅓ cup (80 ml) of the dressing. Toss to coat.
In a separate large bowl, combine the arugula, bacon, and goat cheese. Drizzle with more dressing to taste, reserving the remaining dressing for another use, and toss to combine. Add the roasted vegetables and toss again.
Divide between plates and serve.
Enjoy!
Watch the recipe video here:
Your new favorite salad is here! ?Get the recipe: https://tasty.co/recipe/hearty-winter-vegetable-salad-with-black-onion-seed-vinaigrette

Posted by Proper Tasty on Thursday, June 13, 2019