Double Crunch Fried Chicken Tacos
Crunchy Fried Chicken becomes the SHELL for these game-changing tacos ?? (Incredible, Chef Stuart O'Keeffe!)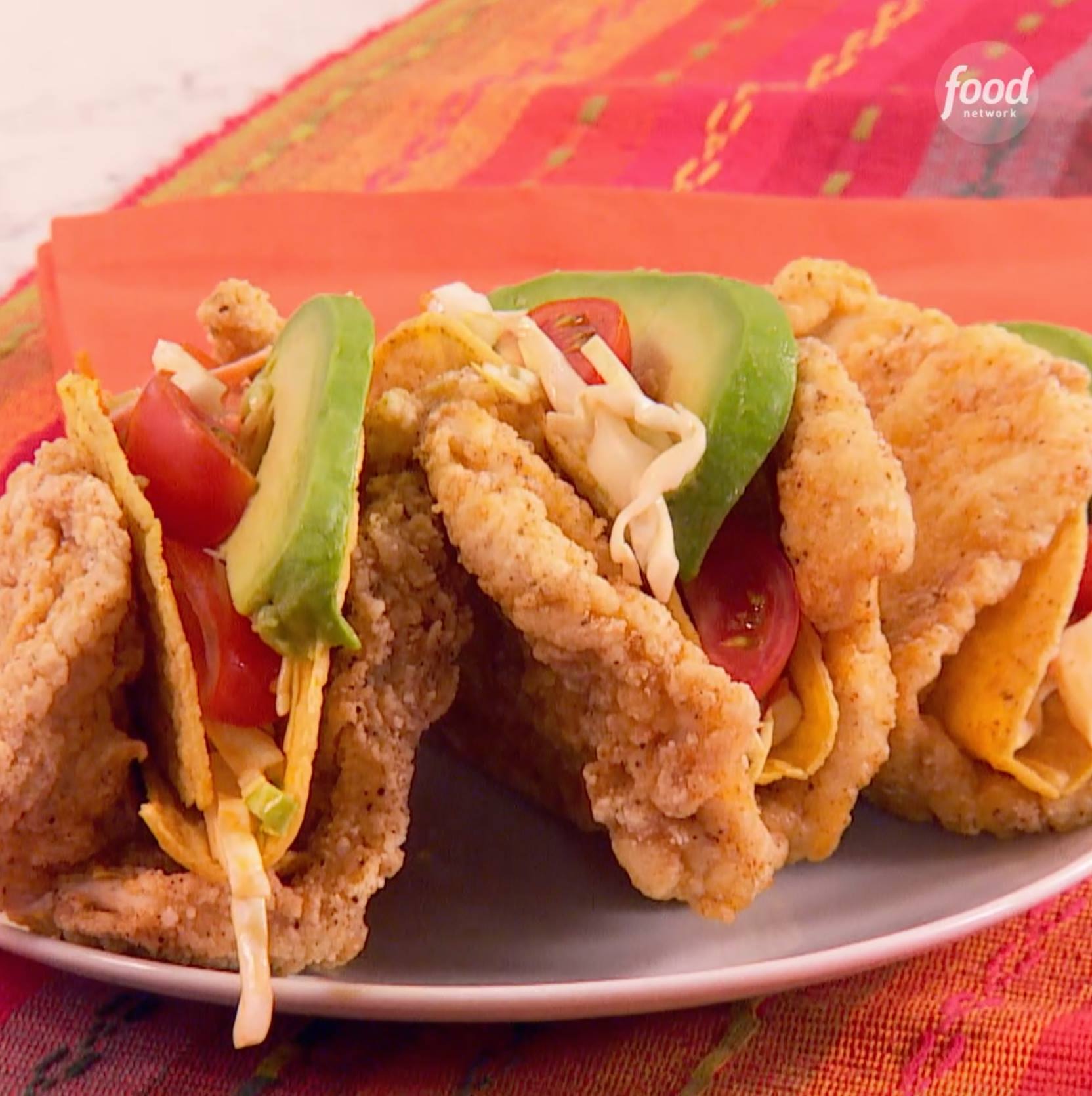 Ingredients
4 small chicken breasts
Vegetable oil, for frying
2 cups cornstarch
2 tablespoons seafood boil seasoning, such as Old Bay
2 teaspoons kosher salt
3 large eggs
4 hard taco shells
3 cups shredded cabbage
1 cup shredded carrots
3 tablespoons hot sauce
2 tablespoons mayonnaise
½ cup cherry tomatoes, halved
1 avocado, sliced
Instructions
Special equipment: a deep-frying thermometer
Slice horizontally into a chicken breast three-quarters of the way through, then open up like a book. Cover with plastic wrap and pound chicken breast until it is ½-inch thick. Repeat with remaining chicken.
Heat about 4 inches of oil in a large heavy-bottomed pot or Dutch oven until the oil reaches 360 degrees F.
Meanwhile, mix cornstarch, seafood seasoning and salt together in a bowl. Whisk eggs in another bowl.
Dip a piece of chicken in the cornstarch, then eggs, then cornstarch, then eggs and finally in cornstarch again.
Wrap the chicken around a hard taco shell (to resemble a taco) and hold in place gently with a pair of tongs. Lower the chicken into the hot oil and hold for about 45 seconds before releasing on its side. Cook for 3 minutes, then flip to the other side and cook 3 minutes more. Place on a wire rack to cool. Repeat with remaining chicken breasts and taco shells. (See Cook's Note.)
Combine cabbage, carrots, hot sauce and mayo in a bowl. Place a heaping tablespoon of slaw in the base of each chicken taco shell, then top with cherry tomatoes and avocado. Enjoy.
Watch the recipe video here:
Double Crunch Fried Chicken Tacos

Crunchy Fried Chicken becomes the SHELL for these game-changing tacos ?? (Incredible, Chef Stuart O'Keeffe!)Watch #LetsEat on Sundays @ 9a|8c right here: https://foodtv.com/2Ogj4Mn!Save the recipe: https://foodtv.com/2OKkn5B.

Posted by Food Network on Saturday, October 13, 2018