Grilled Glazed Ham
This method of grilling and glazing ham can be used with any glaze. Just make sure to heat your ham up over medium indirect heat before brushing it on. (Grill times will be affected by the temperature outside and the wind.)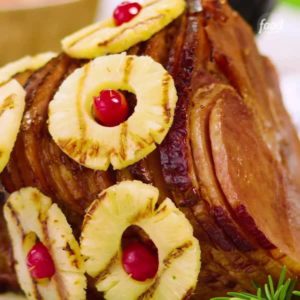 Ingredients
One 8- to 10-pound bone-in spiral-cut smoked ham
One 20-ounce can pineapple rings, rings and juice separated
1 packed cup dark brown sugar
Kosher salt
2 tablespoons apple cider vinegar
10 maraschino cherries, stems removed
Instructions
Special equipment: heavy-duty foil; a small disposable aluminum roaster
Prepare a grill for medium indirect heat. For gas grills (with 3 or more burners), turn all the burners to medium-high heat; after about 15 minutes turn off one of the middle burners and turn the remaining burners down to medium. For charcoal grills, bank one chimney starter-full of lit and ashed-over charcoal briquettes to one side of the grill. Set up a drip pan on the other side to avoid flare-ups. (Be sure to consult the grill manufacturer's guide for best results.)
Cut three 12-inch pieces of heavy-duty foil. Working one piece at a time, fold in half lengthwise. Fold in half again and fold in half one more time; you should have a long strip of foil about 1½ inches wide. Twist the two ends of the strip in opposite directions making a twisted rope of foil. Repeat with the remaining two pieces of foil. Set all three ropes in the center of a small disposable aluminum roaster about 1 inch apart and place the ham on top. (The ropes will prevent the bottom of the ham from burning.) Cover tightly with foil and place over indirect heat (if your grill has a thermometer, it should be at around 325 degrees F). Cover the grill and cook until just warmed through, 35 to 45 minutes.
Meanwhile, boil the pineapple juice, brown sugar and 1 teaspoon salt in a medium saucepan over medium-high heat until the glaze is very thick and has the consistency of honey, 8 to 10 minutes. Stir in the vinegar and remove from the heat.
Carefully remove the foil cover from the ham and discard; baste with the glaze, making sure to get in between each slice. Increase the heat to medium-high and move the ham over direct heat. Cover the grill and cook until the glaze begins to bubble, about 5 minutes. Baste again with the remaining glaze, then cover and cook until the glaze bubbles, 5 minutes more. Continue basting and cooking until the ham is shiny and the glaze begins to brown, about 10 more minutes. Remove from the grill and let sit 10 minutes, uncovered, before serving.
Meanwhile, grill the pineapple rings over direct heat until charred on one side, 4 to 5 minutes. Let cool. Arrange the pineapple rings on the uncut portion of the ham, grill marks facing up, and use toothpicks to secure them in place. Place a cherry in the center of each ring and secure with a toothpick.
Serve the ham with any accumulated juices, remaining pineapple rings and cherries on the side.
Watch the recipe video here:
Make this year's holiday ham on the GRILL for smoky goodness! #ChristmasInJulySave the Recipe of the Day: https://foodtv.com/302aNNu!

Posted by Food Network on Monday, July 8, 2019