Garlicky Shrimp Alfredo Bake
Shrimp tossed in an easy from-scratch Alfredo sauce and penne and baked until you have cheesy goodness.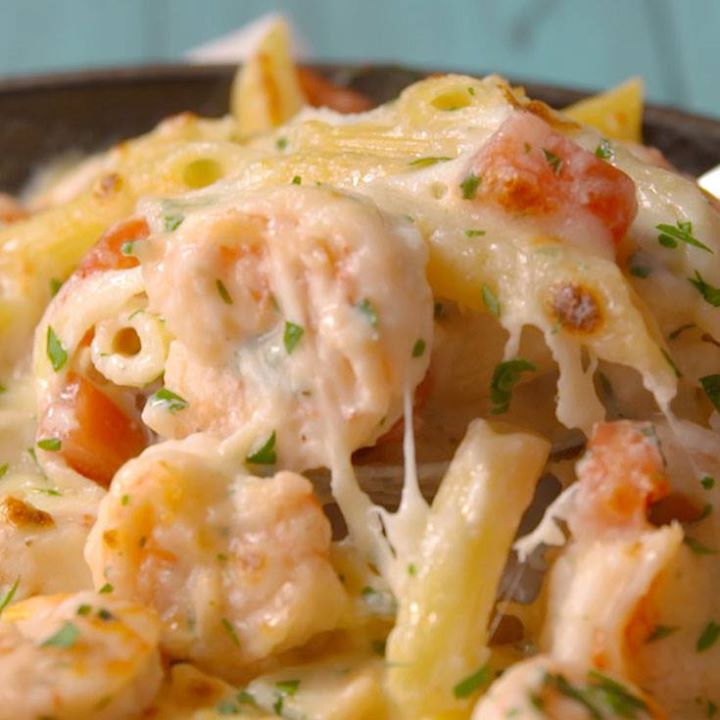 Ingredients
10 oz. penne
3 tbsp. butter, divided
3 cloves garlic, minced
1 lb. medium or large shrimp, peeled and deveined
3 tbsp. chopped fresh parsley, divided
2 tbsp. all-purpose flour
¾ c. milk
¼ c. low-sodium chicken broth
1 c. shredded mozzarella, divided
¼ c. plus 2 tbsp. freshly grated Parmesan, divided
Freshly ground black pepper
2 large tomatoes, chopped (about 1 c.)
Instructions
Preheat oven to 350°. In a large pot of salted boiling water, cook penne according to package directions until al dente. Drain and return to pot.
Meanwhile, in a large ovenproof skillet over medium heat, melt 1 tablespoon butter. Add garlic, shrimp, and 2 tablespoons parsley, then season with salt. Cook until shrimp is pink and no longer opaque, 2 minutes per side. Transfer shrimp to a plate. (Keep juices in skillet.)
Add remaining 2 tablespoons butter to skillet to let melt, then add flour and whisk until golden, 1 to 2 minutes. Add milk and chicken broth and bring to a simmer. Stir in ¾ cup mozzarella and ¼ cup Parmesan until creamy. Season with salt and pepper.
Return shrimp to skillet. Add tomatoes and cooked penne and toss until combined. (Add more milk if mixture is too thick.)
Sprinkle with remaining ¼ cup mozzarella and 2 tablespoons Parm and bake until melty, 5 to 7 minutes. Broil 2 to 3 more minutes until top is golden (watch it carefully so it doesn't burn!).
Garnish with remaining tablespoon parsley and serve.
Watch the recipe video here: