French Onion Steak Sliders
FRENCH ONION STEAK SLIDERS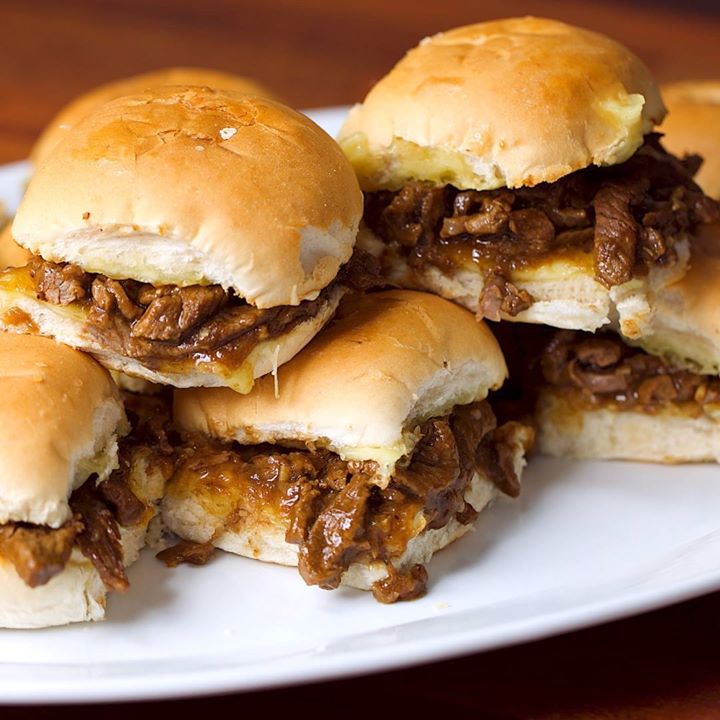 Ingredients
1 tbsp groundnut oil
4 sirloin steaks, cut into slices
2 tbsp flour
1 tbsp salt
1 tsp pepper
1 tbsp butter
3 white onions, thinly sliced
3 garlic cloves, diced
2 cups beef stock
1 cup white wine
12 slider rolls, cut in half
3 cups grated emmental
Instructions
Heat the oil in a large frying pan with a lid and add the sliced steak. Leave the beef so it colours and then stir in the flour, salt and pepper. Remove from the pan and add the butter.
Stir in the onions and cook for around 3 minutes until beginning to colour, then add the garlic and re add the beef.
Pour over the beef stock and wine then bring to a gentle simmer and put the lid on. Cook for around 40 minutes or until the beef has broken down.
While the beef is cooking lay the buns on a baking tray, cut side up, and sprinkle with emmental. Grill for around 3 minutes until the cheese is bubbling.
Spoon the beef mixture onto the bottom buns and add the top buns on top and serve warm.
Watch the recipe video here:
French Onion Steak Sliders

Posted by Twisted on Monday, November 20, 2017