Chocolate Buttermilk Squares
Every time I take a pan of these to a picnic, it comes back clean! At home, they disappear as fast as I can stir them. —Clarice Baker, Stromsburg, Nebraska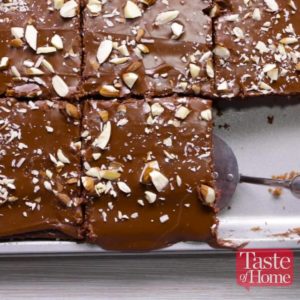 Ingredients
1 cup butter, cubed
¼ cup baking cocoa
1 cup water
2 cups all-purpose flour
2 cups sugar
1 teaspoon baking soda
½ teaspoon salt
½ cup buttermilk
2 large eggs, room temperature, beaten
1 teaspoon vanilla extract
3 to 4 drops red food coloring, optional
FROSTING:
½ cup butter, cubed
¼ cup baking cocoa
¼ cup buttermilk
3-3/4 cups confectioners' sugar
1 teaspoon vanilla extract
Dash salt
¾ cup chopped almonds, optional
Instructions
In a large saucepan, bring butter, cocoa and water just to a boil. Cool.
Meanwhile, in a large bowl, combine the flour, sugar, baking soda and salt. Add cocoa mixture and buttermilk; mix well. Beat in the eggs, vanilla and, if desired, food coloring. Pour into a greased and floured 15x10x1-in. baking pan.
Bake at 350° for 20 minutes. For frosting, melt butter with cocoa and buttermilk. Stir in the confectioners' sugar, vanilla and salt. Spread over warm cake. Garnish with nuts if desired.
Watch the recipe video here:
These delicious treats are sure to be a crowd-pleaser.Get the recipe for Chocolate Buttermilk Squares here–> http://trib.al/CMmxUai

Posted by Taste of Home on Monday, June 24, 2019