Cherry Pie-Filled Cheesecake
Cherry Pie-Filled Cheesecake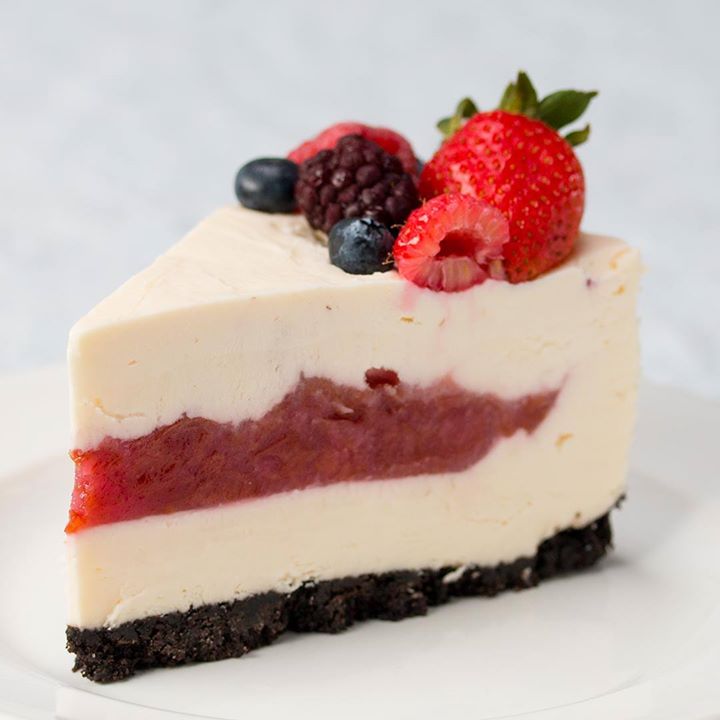 Ingredients
CHERRY PIE FILLING
1 cup (200 g) sugar
¼ cup (30 g) cornstarch
⅓ cup (80 mL) water
1 tablespoon lemon juice
40 oz (1.1 kg) canned cherry, drained
1 teaspoon almond extract
CHEESECAKE
25 chocolate sandwich cookies, crushed
6 tablespoons unsalted butter, melted
40 oz (1.1 kg) cream cheese
2 cups (400 g) sugar
2 teaspoons vanilla extract
1 cup (240 mL) heavy cream
fresh berries, for decoration
Instructions
Add the sugar and cornstarch to a large saucepan and whisk until combined. Stir in the water and lemon juice. Cook over medium heat, whisking until the sugar has dissolved, then reduce the heat to medium-low and simmer until a thick syrup forms and turns golden, about 5 minutes.
Add the cherries and cook for another 2-3 minutes until syrup has thickened. Turn off the heat and stir in the almond extract. Set aside to cool.
Line an 8-inch (20 cm) springform pan with plastic wrap. Transfer the cherry filling to the pan and spread evenly. Freeze for 2-3 hours, until firm.
Combine the crushed cookies with the melted butter in a medium bowl until well-combined.
Transfer the cookie crumb mixture to a 10-inch (25 cm) springform pan. Use a spatula or measuring cup to press the cookie crumbs down to form an even base. Freeze for 10 minutes.
In a large bowl, beat the cream cheese, sugar, and vanilla extract together with an electric hand mixer until combined.
Add the heavy cream and beat for another 2-3 minutes until combined and fluffy.
Spread half the cheesecake mixture over the chilled cookie crust. Freeze for 10 minutes.
Unwrap the cherry pie filling, and place it on top of the set cheesecake layer. Cover with the remaining cheesecake batter, spreading until smooth on top.
Decorate with fresh berries.
Chill in the fridge for at least 4 hours before slicing and serving.
Enjoy!
Watch the recipe video here:
The hidden layer of cherry pie filling is such a sweet surprise! ?FULL RECIPE: https://tasty.co/recipe/cherry-pie-filled-cheesecake

Posted by Tasty on Wednesday, May 23, 2018