Cheesy Hunters Chicken Pasta
Hunters chicken pasta is a great combo of sweet, salty and smokey flavours. The tomato sauce balances out the sweetness of the bbq sauce which brings out the smokey flavour of the bacon. Add some hot sauce if you'd like some extra kick!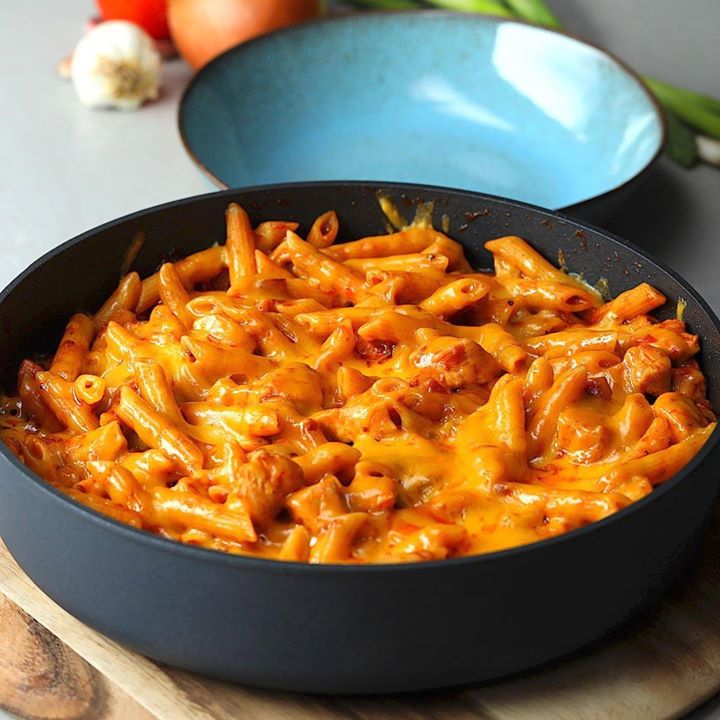 Ingredients
1 onion diced
1 tbsp oil
10 bacon rashers, chopped
3 chicken breasts, diced
3 cloves garlic, minced
1 tsp salt
1 tsp pepper
1 cup crushed tomatoes
1 cups bbq sauce
500g penne pasta, cooked
½ cup reserved pasta water
1 cup grated cheddar cheese
Chopped spring onions
Instructions
Heat oil on medium heat in a large non-stick pan. Add onion and cook until just soft. Add bacon and cook until onions are caramelising and bacon is getting crispy. Remove and set aside.
Add pan with residual oil in pan back on medium heat. Add chicken and cook until just golden brown. Return onions and bacon back to pan. Add garlic and cook through until aromatic.
Add crushed tomatoes, salt, pepper and bbq sauce. Stir to combine and bring to a simmer. Let simmer for 5-8 minutes until just thickened.
Add pasta and stir to coat well. Add pasta water to think out if necessary. Sprinkle with grated cheese and cover with a lid to melt the cheese. Top with spring onions.
Enjoy!
Watch the recipe video here:
Cheesy Hunters Chicken Pasta

Posted by Twisted on Thursday, April 5, 2018