Cheesesteak Lasagna Wheels
Cheesesteak Lasagna Wheels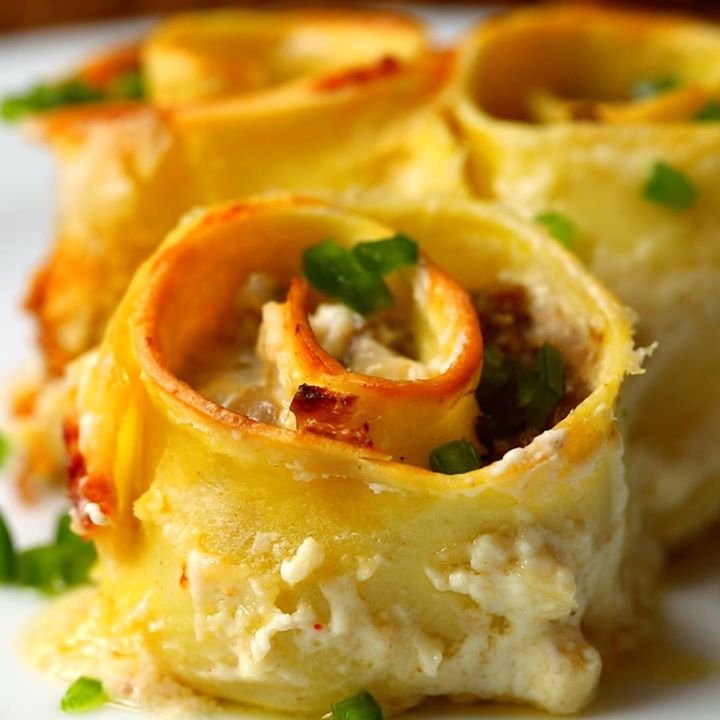 Ingredients
2 steaks, cut into thin strips
2 green peppers, sliced thinly
1 white onion, sliced thinly
2 cloves garlic, minced
2 tsp Worcestershire sauce
2 tsp salt
1 tsp pepper
1 tbsp cooking oil
1 cup cream cheese
2 cup cream, hot
3 cups mozzarella, grated
1 tsp paprika
¼ tsp ground nutmeg
1 tsp salt
10 lasagna sheets, par cooked
1 Jalapeño, deseeded and finely chopped (optional)
Instructions
In a large skillet over medium-high heat, add ½ tbsp oil. Add sliced steak and cook until browned and no liquid remains. Remove from pan and set aside.
In the same pan heat remaining oil. Add onions and peppers. Cover and cook until softened and lightly caramelized, about 10 minutes. Add steak back in with garlic, spices and Worcestershire sauce. Stir until garlic is just cooked, about 2 minutes. Set aside to cool
In a blender add cream cheese, 1 cup mozzarella, spices and hot cream. Blend until smooth.
Preheat oven to 180C (350F). Grease a large oven-proof dish.
Take lasagna sheets and cut in half, sprinkle with cheese leaving an open edge of pasta at the end. Top with steak mixture evenly but not too much, about 1-2tbsp per roll. Roll up tightly. Cut each roll in half.
Pour ¼ of the sauce on the bottom of the pan. Arrange the pasta pinwheels neatly on top of the sauce. Cover with remaining sauce.
Bake for 30-40 minutes until sauce is bubbling and pasta is just golden brown on top.
Sprinkle with jalapeño pepper and enjoy!
Watch the recipe video here:
Cheesesteak Lasagna Wheels

Posted by Twisted on Tuesday, September 12, 2017