Cheeseburger French Dip Sliders
Made with fresh grapes, sweet white wine, and sprinkles of gold leaf, it's the perfect cake for brunchtime gatherings.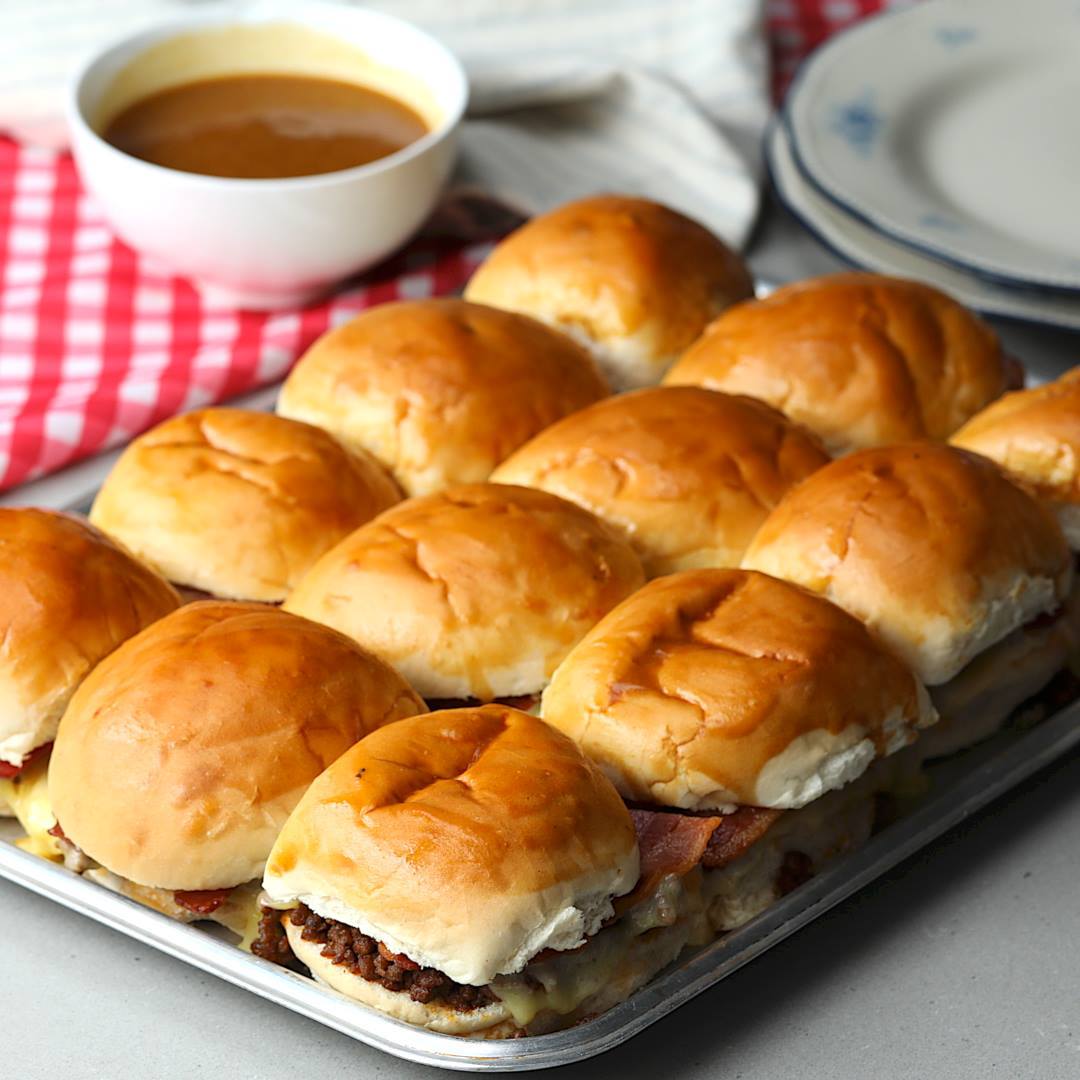 Ingredients
Crust:
2 ounces fruit granola
2 tablespoons butter, melted
Cheesecake filling:
1½ teaspoons gelatin
1 tablespoon water
3½ ounces cream cheese, room temperature
2½ tablespoons granulated sugar
½ cup yogurt
1½ cups heavy cream
1 tablespoon lemon juice
White wine jelly:
1 cup white wine
4 tablespoons granulated sugar
1 tablespoon lemon juice
2½ teaspoons gelatin, mixed with 2 tablespoons water
Gold leaf
To assemble:
1 bunch Muscat grapes
Handful of blueberries
Instructions
Prepare the crust:
Use a rolling pin to grind the granola until fine. Combine it with the melted butter, and press mixture into the bottom of a round springform pan. Place in refrigerator to chill.
Prepare the filling:
Sprinkle the gelatin over the water and let it soak for 5 minutes. Place in microwave for 20 seconds at 500 watts then transfer to a food processor. Add remaining cheesecake ingredients and pulse until combined. Pour mixture on top of the granola crust and place back in fridge to solidify.
Prepare the jelly topping:
In a small saucepan over medium heat, add white wine and sugar. Turn heat off once mixture starts to boil, then add lemon juice, gold leaf and gelatin. Stir until gelatin melts. Cool the saucepan in ice water until the gelatin mixture thickens.
Assemble:
Remove cheesecake from fridge. Line outer rim with grapes and blueberries in a wreath shape. Pour the white wine jelly over the top of the fruit.
Chill in refrigerator until set.
Watch the recipe video here: