Buffalo Chicken Mozzarella Sticks
Buffalo chicken + mozarrella sticks = a combination you didn't know you needed in your life ?!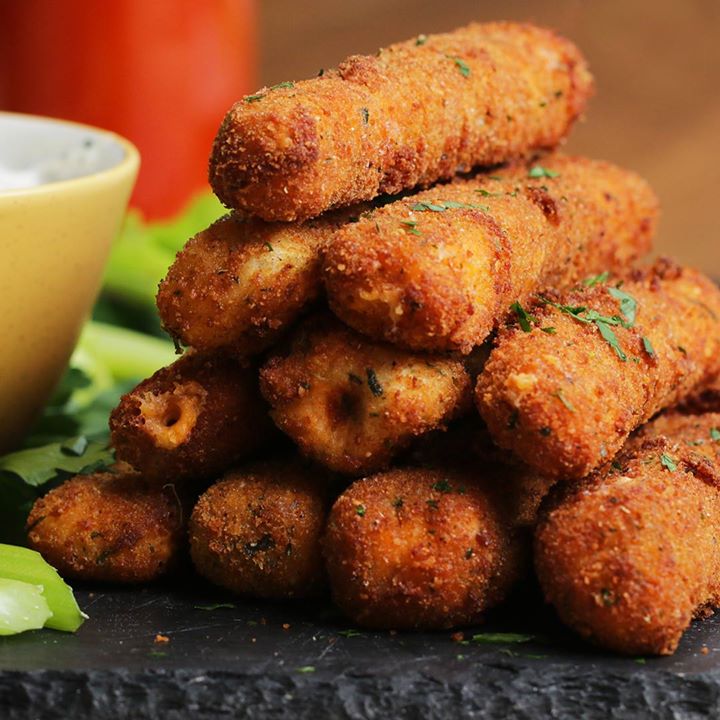 Ingredients
8 oz cream cheese, softened (225 g)
2 cups cooked and shredded chicken (250 g)
½ cup buffalo sauce (145 g)
2 cups shredded mozzarella cheese (200 g)
1 cup shredded cheddar cheese (100 g)
1 oz dry ranch dressing mix, 1 packet (30 g)
2 cups all-purpose flour (250 g)
6 eggs, beaten
3 cups seasoned bread crumbs (345 g)
peanut or vegetable oil, for frying
ranch dressing, for serving
Instructions
Line an 8x8-inch (20 x 20-cm) baking dish with parchment paper.
In a large bowl, combine the cream cheese, chicken, hot sauce, cheeses, and ranch dressing mix with a fork until smooth and evenly mixed. Transfer to the prepared baking dish and smooth it with a spatula so that it's spread evenly in the dish. Freeze until solid, at least 1 hour.
Working quickly, remove the solid mixture from the sheet and cut into 4x1-inch (10x3-cm) rectangles. (There should be 16 total.)
Bread each stick by coating in flour, then dredging in egg, and then dipping in bread crumbs. Dip once more in the egg, then once more in the bread crumbs, and transfer to a baking dish.
Heat the oil in a large pot until it reaches 375˚F (190˚C).
Carefully lower 3 or 4 of the coated sticks into the oil and fry for about 30 seconds, until golden brown. Continue this until all of the sticks are fried.
Serve warm with ranch.
Enjoy!
Watch the recipe video here:
Buffalo Chicken Mozzarella Sticks

Buffalo chicken + mozarrella sticks = a combination you didn't know you needed in your life ?!FULL RECIPE: https://tasty.co/recipe/buffalo-chicken-mozzarella-sticks

Posted by Tasty on Friday, March 2, 2018