Uncle Pooh's Shrimp, Sausage, And Grits
One of our coworkers made us his Uncle Pooh's recipe for shrimp, sausage, and grits ?!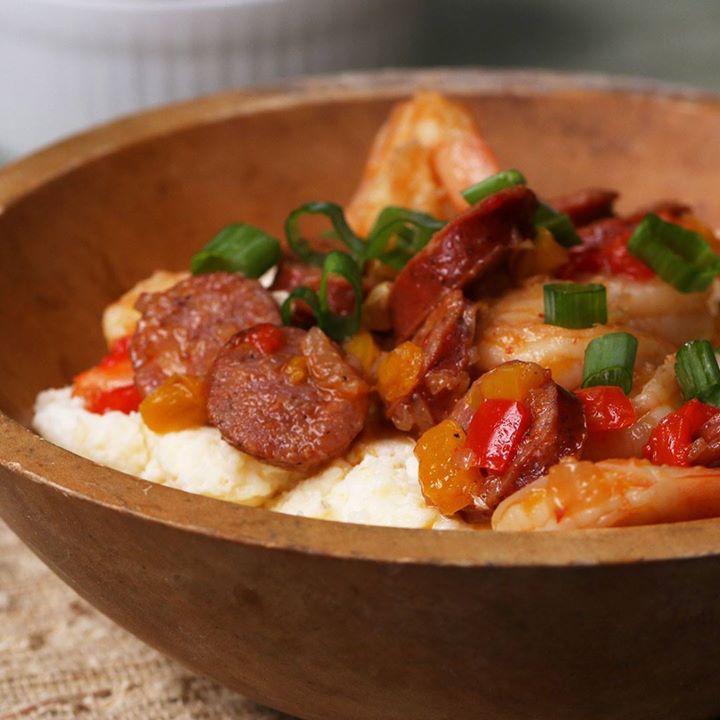 Ingredients
3 cups whole milk (720 mL)
3 cups heavy cream (720 mL)
1 cup white corn grit (170 g)
2 teaspoons salt, divided
1 teaspoon black pepper, divided
3 tablespoons unsalted butter
½ cup shredded cheddar cheese (50 g)
2 tablespoons vegetable oil
1 medium white onion, minced
1 yellow bell pepper, diced
1 medium red bell pepper, diced
2 cloves garlic, minced
1 lb andouille sausage, sliced (455 g)
1 pinch cayenne pepper, plus more to taste
1 cup chicken stock (240 mL)
1 lb large raw shrimp, peeled and deveined (455 g)
1 pinch cayenne pepper, plus more to taste
scallion, sliced, for serving
Instructions
In a medium pot, stir together the milk and heavy cream over medium-high heat.
Bring to a boil.
Slowly whisk the grits into the pot. When mixture begins to bubble, reduce the heat to medium-low. Add 1 teaspoon salt and ½ teaspoon pepper.
Continue whisking the grits frequently for 10-15 minutes until mixture thickened.
Remove the grits from the heat. Add the butter and cheddar cheese, and whisk to incorporate. Set aside.
Heat the vegetable oil in a large skillet on medium-high heat.
Add the onions, peppers, and garlic. Sauté for 2 minutes until onions and peppers have softened.
Add the sausage. Cook until cooked through, about 5-7 minutes.
Slowly add the chicken stock. Stir until well-incorporated.
Add the shrimp. Cook until pink in color, about 3 minutes.
Add the cayenne, remaining teaspoon salt, and remaining ½ teaspoon black pepper. Add additional cayenne pepper, if desired.
Remove from the heat and spoon the sausage and shrimp mixture over the grits.
Sprinkle scallions on top, if desired.
Enjoy!
Watch the recipe video here:
Uncle Pooh's Shrimp, Sausage, And Grits

One of our coworkers made us his Uncle Pooh's recipe for shrimp, sausage, and grits ?!FULL RECIPE: https://tasty.co/recipe/uncle-poohs-shrimp-sausage-and-grits

Posted by Tasty on Thursday, March 1, 2018