Apple Pie Crumble Blondies
It's apple season ? Why not make these apple crumble blondies?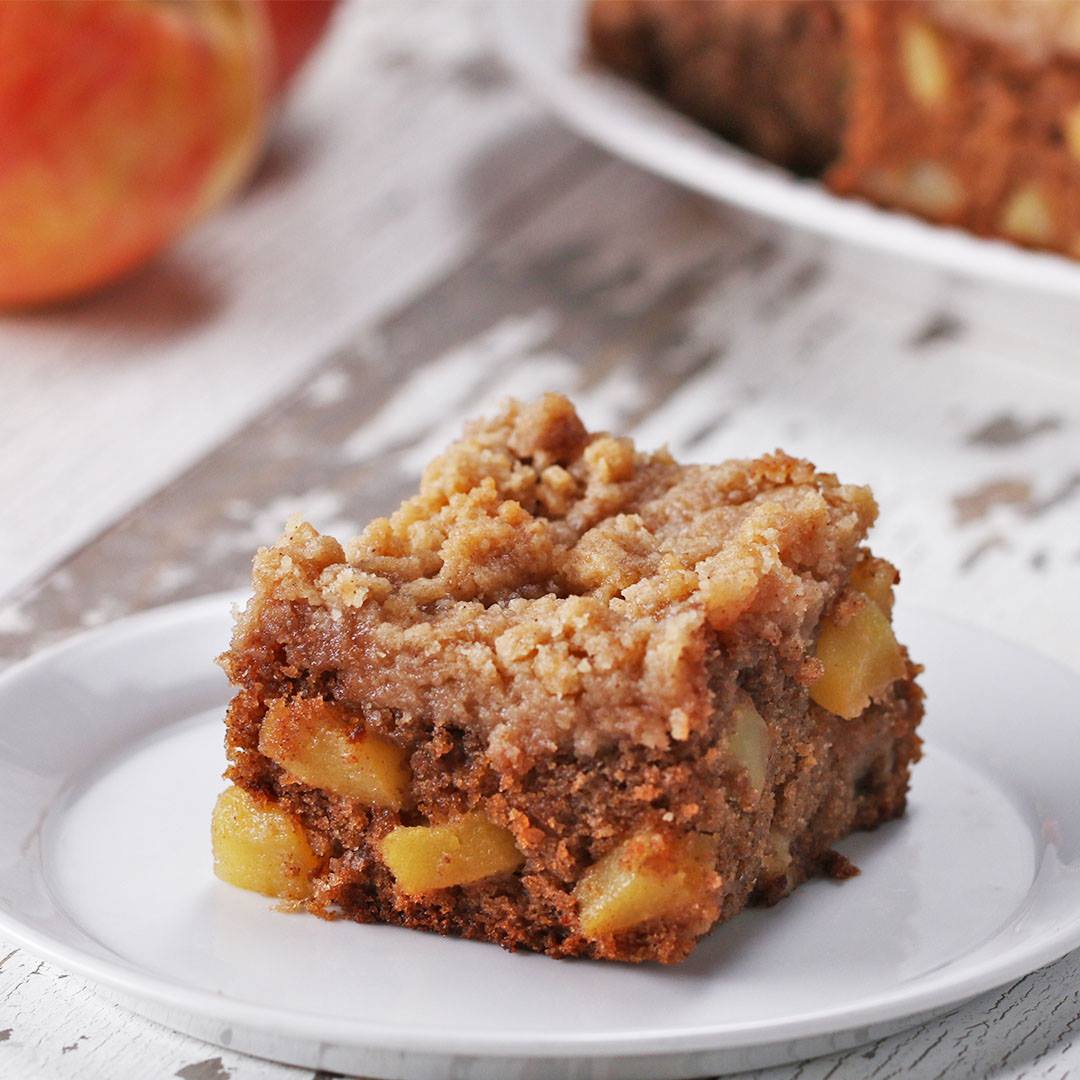 Ingredients
CRUMBLE
½ cup butter, cold and cubed (115 g)
¼ cup brown sugar (55 g)
¼ cup sugar (50 g)
½ teaspoon cinnamon
1 cup flour (125 g)
BLONDIES
1 ¼ cups flour (155 g)
2 teaspoons cinnamon
½ teaspoon nutmeg
½ teaspoon salt
½ teaspoon baking soda
½ cup unsalted butter, melted (115 g)
½ cup brown sugar (110 g)
¼ cup maple syrup (55 g)
1 egg
1 tablespoon vanilla extract
2 apples, cored, seeded, and diced
1 tablespoon lemon juice
Instructions
Preheat oven to 350˚F (180˚C).
In a bowl, add the butter, brown sugar, sugar, cinnamon and flour. Use a fork incorporate all of the ingredients until a coarse crumb forms. Chill until ready to use.
In a bowl, add the flour, cinnamon, nutmeg, salt, and baking soda, stir to combine.
In a large bowl, add the butter, sugar, and maple syrup. Whisk until fully incorporated,
Add the egg and vanilla to the bowl with the butter and mix until fully incorporated.
Add half of the flour mixture, and mix until just combined. Add the second half of the flour mixture and mix until there are streaks of flour still showing, making sure to not overmix.
Pour the lemon juice over the apples then gently fold the apples into the batter.
Spread batter evenly into a greased 9-inch (23 cm) square cake pan.
Sprinkle crumble mixture over the top, creating different size crumble pieces by squeezing some small clumps together in your hands for varying texture.
Bake for 25 minutes, or until toothpick comes out clean, cover with foil the last 5 minutes to prevent the top from over baking.
Let cool for about 20 minutes, slice and serve.
Enjoy!
Watch the recipe video here:
It's apple season ? Why not make these apple crumble blondies?FULL RECIPE: https://tasty.co/recipe/apple-pie-crumble-blondies

Posted by Tasty on Friday, October 26, 2018