Balsamic Steak Roll-Ups
Securing the roll-ups with toothpicks makes them MUCH easier to cook. Just don't forget to remove them when it's time for serving!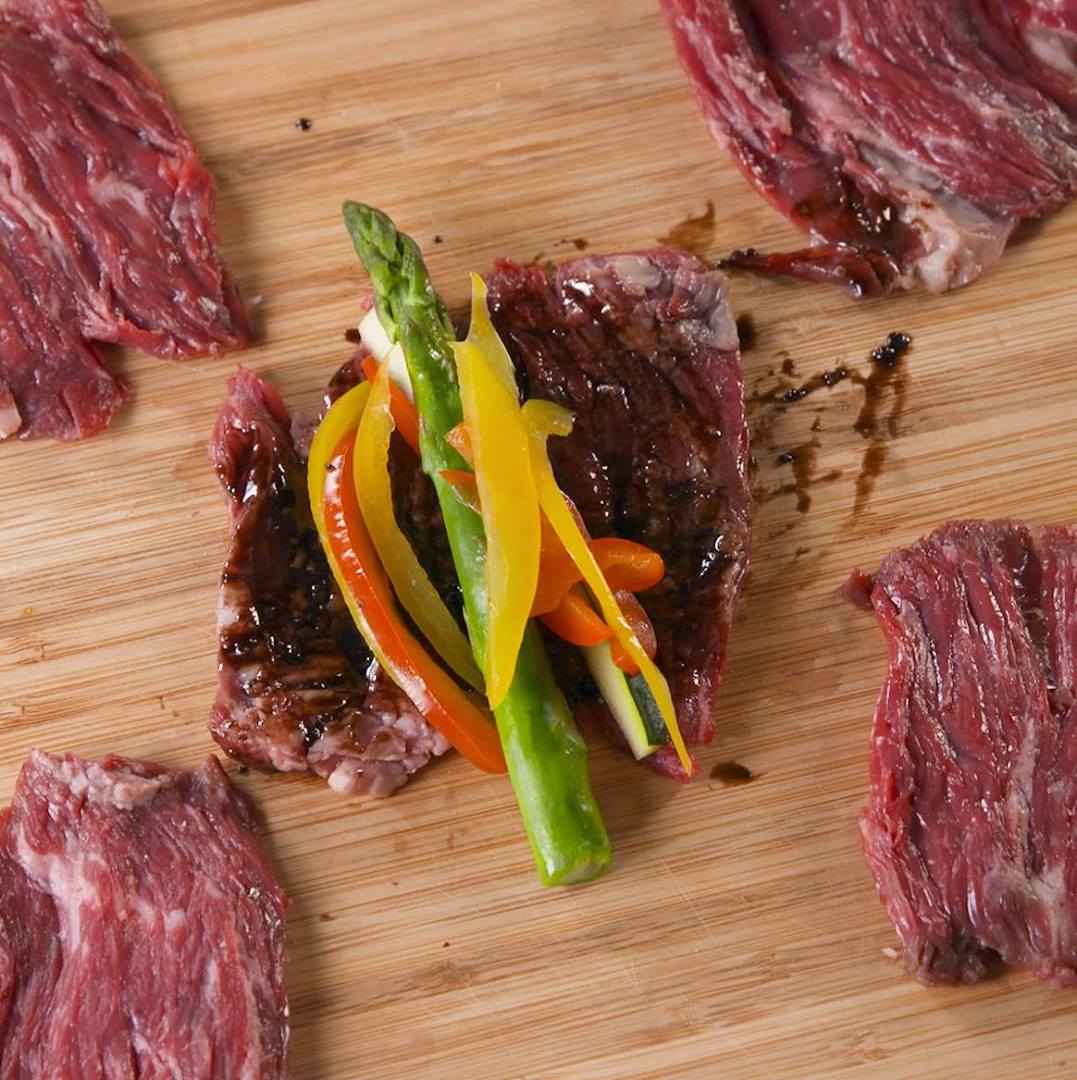 Ingredients
1 lb. skirt steak, cut into thin strips
½ c. balsamic vinegar
2 tbsp. honey
1½ tbsp. whole-grain mustard
3 cloves garlic, minced
1 tsp. Worcestershire sauce
1 tsp. minced fresh rosemary
½ tsp. dried oregano
Kosher salt
Freshly ground black pepper
2 tbsp. extra-virgin olive oil, divided
2 bell peppers, cut into thin strips
½ lb. asparagus, woody ends removed
2 small zucchini, cut into thin strips
Toothpicks
Instructions
Make marinade: In a small sauce pan over medium heat, combine vinegar, honey, mustard, garlic, Worcestershire sauce, rosemary, and oregano. Season with salt and pepper. Bring mixture to a boil then reduce to a simmer and cook, stirring occasionally, until it has reduced by about a third and is syrupy in consistency, 10 to 12 minutes.
Meanwhile, prepare vegetables: In a medium skillet over medium heat, heat 1 tablespoon olive oil. Add peppers and cook 2 minutes, then add asparagus and zucchini and season with salt, pepper, and Italian seasoning. Cook until vegetables are tender but still hold their shape, 4 to 6 minutes more.
Assemble roll-ups: Lay steak strips flat on cutting board, and brush both sides with marinade. Place a small handful of vegetables in the center of each piece of steak. Wrap steak around vegetables and secure with a toothpick.
In a large skillet over medium heat, heat remaining 1 tablespoon oil. Place steak roll-ups in skillet seam side-down and cook 2 minutes until nice and seared. Use tongs to turn roll-ups to cook on all sides, about 2 minutes per side. Brush with remaining marinade as steak cooks.
Remove from heat and serve immediately.
Watch the recipe video here: