Zucchini Taco Roll-Ups
You won't miss the shell with this ultra-satisfying zucchini taco bake.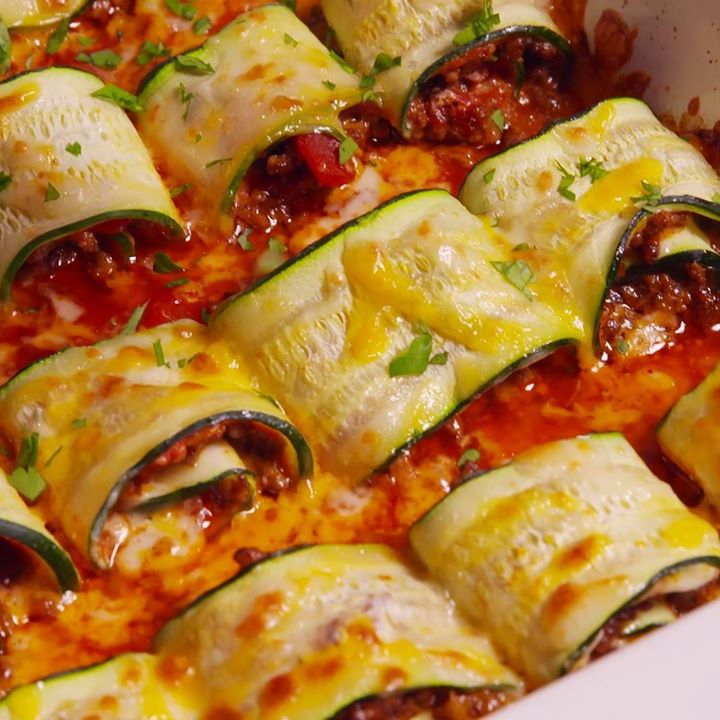 Ingredients
2 tbsp. extra-virgin olive oil
1 medium yellow onion, chopped
1 jalapeno, minced
1 lb. ground beef
kosher salt
2 tbsp. Taco Seasoning
1½ c. grated Monterey jack, divided
1½ c. grated cheddar, divided
¼ c. sour cream
can fire-roasted crushed tomatoes
4 medium zucchini, sliced ⅛" thick
Cilantro, chopped, for garnish
Instructions
Preheat oven to 400 degrees F.
In a large skillet over medium heat, heat olive oil. Add onion and cook until tender, 5 minutes. Add jalapeño and cook 2 minutes more. Add ground beef and cook until no longer pink, 8 minutes, then drain the fat. Season with salt, mix in the taco seasoning, and add ½ cup of both Monterey Jack and cheddar, then set aside.
Spread a thin layer of crushed tomatoes into the bottom of a 9"-x-13" baking dish. On each slice of zucchini, spoon a thin layer of sour cream and crushed tomatoes. Top with a layer of beef mixture, and sprinkle with Monterey Jack and cheddar. Roll up and place seam side down in baking dish. Repeat to fill the dish. Sprinkle top with remaining cheese.
Bake until zucchini is tender and cheese is melted, about 30 minutes. Garnish with cilantro.
Watch the recipe video here: